Location
Learning Resources Center (LRC) 336/338
Hours
8 am – 5 pm, with appointment
Phone
(714) 892-7711 ext 55062
Find English as a Second Language (ESL) and registration info by visiting NonCredit link below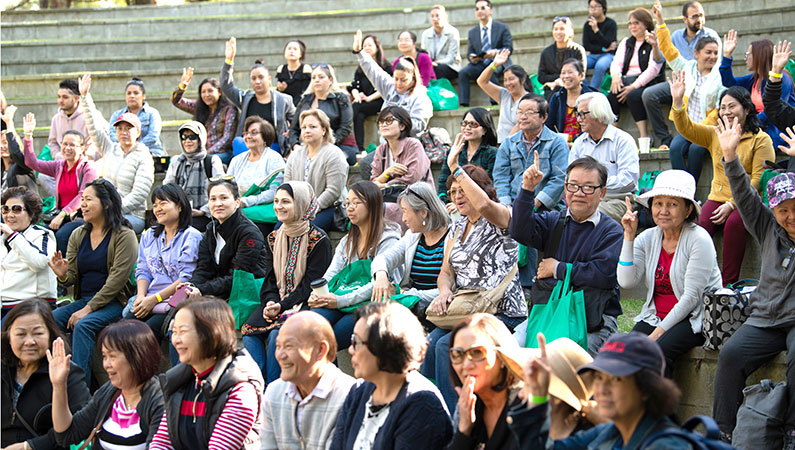 (Bridge Day participants gather at the college amphitheater on Nov. 14, 2018.)
Golden West College, Office of Adult Education
---
The Office of Adult Education at Golden West College seeks to serve adult education students in the local community as they consider their pathways to college and career options.

Adult Education News
The Office of Adult Education at Golden West College hosted the third annual Bridge Day events on November 14 and 15, 2018 on campus. Over 200 potential students participated, primarily from the Huntington Beach Adult School, Lincoln Education Center, BPSOS, and other surrounding community organizations. Dozens of participants scheduled counseling appointments for spring registration, and over 30 were thrilled to get their college ID.
"Bridge Day is important to students because it gives many of them an opportunity to visit a college campus for the first time in their lives," said Dr. Larisa Sergeyeva, Adult Education Program Project Director. "It also gives students the opportunity to continue their studies after they've completed their adult school education, or if they're close to completing high school and seeking post-secondary education."
The Bridge Day's schedule included a tour of the campus, classroom visits, and opportunities to meet with admission and counseling staff. Representatives from EOPS, DSPS, and Puente, were also available to share valuable information about their programs.
"Bridge Day provides the local community with the opportunity and guidance to enroll in college courses, and we let potential students know that age, background, language barriers, and residency status will not affect their success here at GWC," said Sergeyeva. "Our students range from 18-year-olds who have just completed their high school diploma, to a 91-year-old great grandmother taking ESL classes so she can communication better with her grandchildren."
The Adult Education Program at GWC is excited and ready to serve these students in the spring and beyond.
---
Legislation:
"The goal is to rethink and redesign an educational system that creates seamless transitions for students across adult schools and community colleges to accelerate academic and career success."
AB86, provided the opportunity for developing the statewide collaboration and regional approach needed to maximize the state's return on its investment in adult education. It provided focused priorities and a new regional design for the California Department of Education and the California Community College Chancellor's Office adult education programs based on the state's critical educational and workforce needs.
AB104, the Adult Education Program is established under the administration of the Chancellor of the California Community Colleges and the Superintendent of Public Instruction. The Chancellor and the Superintendent are the state officials responsible for identifying and understanding the educational needs of adults in the state.