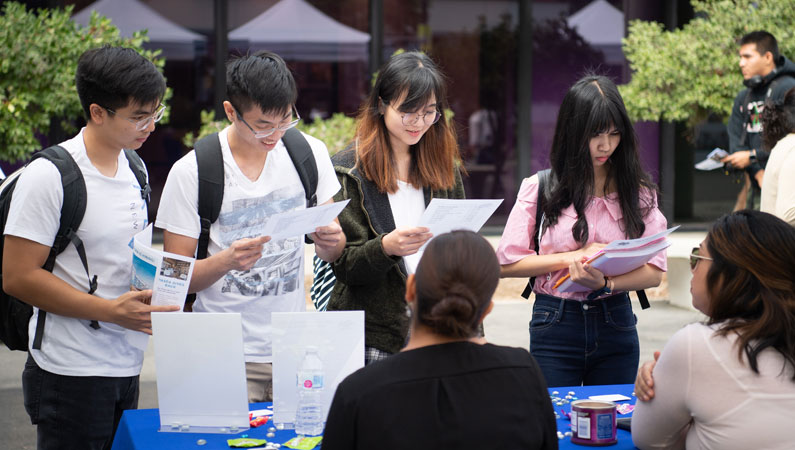 Career Planning and Job Sites
---
Your Resume Has 30 Seconds to Impress Recruiters
Imagine reading a book and the first few chapters made you feel like you just wasted your time. Would you actually want to continue reading it? Probably not. In a similar sense, no recruiter would want to read resume that doesn't command attention.
The good news: After investing long hours to update and fine-tune your resume, it finally landed in the hands of someone that can make a difference in your career.
The bad news: The person reviewing your resume will probably only look at it for about 30 seconds.
Here are a couple of quick types that will help make your resume a bit more appealing:
Visually Balanced (the "glance")
To tell if your resume is visually balanced, fold your resume in half (vertically). How does it look? If it's too heavy on a particular side, work on making your resume more visually balanced. In other words, focus on adding more text on the opposite side of the fold to even out the amount of text on each side. By doing this, it will make resume to look more presentable at first glance.
Also, your resume must be visually attracting to the reviewer. Too little information looks like you don't have the experience; too much information could intimidate the reviewer. Be sure the find the balance between the two.
Location, Location, Location (the "skim")
When a recruiter is reviewing your resume, your resume has 30 seconds to impress the recruiter. Is it fair that you worked hours on your resume for someone to only look at it for a few seconds? No. Does it happen regularly? Absolutely. Keywords must be strategically placed so that the person reviewing your resume can immediately tell that you're the right candidate for the job. To execute this, always place the most relevant experience/keywords at the top of your resume. Don't wait until the end of your resume to say that you're the right person for the job.
---
Resume, interview and other career-related articles written by Tony Lim of Jobonomics.com. Empowering Job Seekers.
Tips for a Successful Phone Interview
Phone interviews can be nerve-racking, especially for those who excel in face-to-face conversations. With these types of interviews, you must really focus on verbal cues from the interviewer to determine whether or not he or she is engaged with you.
The following tips will help you overcome your fears and will help you prepare for a successful phone interview.
Prepare. Prepare. Prepare.
The last thing that you want to do is be unprepared for the phone interview. Put together a list of common interview questions, as well as your answers to these questions. Make sure to do this sooner than later so you have time to become the "master of yourself."
Some common questions and statements that you should already know the answers to, include:
Tell me about yourself. (This should be a 1-2 minute summary of your key accomplishments in your professional career/student career)
What are your greatest strengths/weaknesses?
How would you rate your experience with _______(look for the "required knowledge/experience" portion of the job description)_______?
Why are you leaving your current company? Or, why did you leave your last company?
We strongly encourage that you write out the answers to everything listed above and start reading your answers out loud. Practice reading the answers out loud until you memorize them. Be sure to not sound rehearsed.
Don't forget to print out a copy of your resume and your answers to the interview questions so you can refer back to them during the interview. Again, do not sound like your answers are rehearsed!
Tip: We typically recommend that job seekers do not pick up the INITIAL phone call they receive from companies. For example, let's say that you applied for a position at ACME Corporation. A few days later, you see a phone call on your caller id from ACME Corporation. We suggest that you do not pick that call up.
Here's why: If you pick it up at bad time, it will be hard for you to get into the interview mindset. By calling the person back within a reasonable time frame (1-3 hours), you give yourself more time to prepare mentally, which is key for a successful interview.
Identify Your Comfort Zone.
You want to have your phone interview at a comfortable location. Whether it's at your house, your friend's house or in an office, be sure that the place is free from noises and distractions.
Fix Your Phone.
Before the interview, be sure to disable call waiting. While you're at it, unplug phones around your immediate area. There's nothing more unsettling than having another phone ring when you're interviewing.
If your phone has speakerphone option, and it works well, use it! You should spend your time focused on the interview and not on holding the phone up with your hand or shoulder.
Stand Up and Smile.
During the interview, try to stand up when you speak. Your voice will sound more authoritative. Also, try to smile from time to time when you're talking on the phone. Interviewers can tell if you're happy to speak to them or not.
Next Steps.
Before you say good-bye, ask the interviewer what the next steps are in the interview process. It's also a good time to ask him or her for an e-mail address so you can send a thank you letter.
---
Resume, interview and other career-related articles written by Tony Lim of Jobonomics.com. Empowering Job Seekers.
The Power of Resume Keywords
Have you ever wondered how recruiters find resumes online? Whether you're using monster.com, careerbuilder.com, theladders.com, dice.com or the hundreds of other job search websites, they all have one thing in common: a resume search feature. Recruiters and hiring managers do not have time to look at the hundreds of resumes that they can receive for an open position. In order to make their lives easier, they use a resume search feature to find candidates that contain specific keywords on their resume. What are keywords? Keywords can be:
Job Specific Knowledge and Training. Examples include accounting, computer programming, financial analysis
Educational Background, Degrees Earned.
Keywords are very important. Popular job search sites rank resumes not only what keywords are used, but also how frequently the keywords occur a person's resume. In other words, the more you use a particular keyword that a recruiter is searching for, the higher you are likely to rank in the results. The same is true with how recent or where certain keywords occur on your resume.
For example, if a person has "C++ programming" on his or her resume peppered throughout different companies that he or she has worked for, the computer program will push a person's resume to the top of the results because he or she likely has strong C++ programming experience.Important: Do not keyword spam your resume. If you do, your resume will be trashed and the company may blacklist you for trying to cheat the system. Finally, a great way to learn more about the systems that job sites use is to actually research the tools they use on your own. Visit sites like monster.com and click on the "Employer" link along the top of their page to learn more about their resume search tool.
---
Resume, interview and other career-related articles written by Tony Lim of Jobonomics.com. Empowering Job Seekers.
How to Address Job Hopping in an Interview
There's this negative stigma associated with people who job hop. Unfortunately, job hopping may be voluntary or involuntary. Either way, if your work history shows a repeat pattern of how you jump from job to job every 1-3 years (or less), you will need to know how to address the question of loyalty when the time comes during your interview.
Tell the Employer That They're "THE ONE"
Imagine this scenario – you're doing awesome on your interview and one of the last questions that you get from the hiring manager is about the fact that you have had 2 jobs in the past 3 years. If the reason why you job hopped was that you were laid off, then, by all means, tell them that one of them was a result of a layoff. We recommend expanding on that if you can. In other words, if you managed to make it through three waves of layoffs before you were laid off, mention it. This is what the hiring manager wants to hear.
However, if you left the job because you were either bored or just wanted to try something new, you have a slightly more difficult challenge ahead of you. Don't even bother by saying that "you were looking for a challenge" because that's a very old and commonly used reason/excuse. Instead, focus on how the position that you left to had something that the other one didn't.
An example of what you can say is, "It was an extremely difficult decision because I really loved working with my team. However, there was an opportunity to lead a team of people and that was the type of experience that I was looking for in my career."
Finally, if during the interview, the hiring manager asks you if you plan on staying with the company for a while, say, "Yes," immediately, and follow it by saying that, "The people here have been great. You can see the smiles on everyone's face. This is the type of company that I want to work for."
Don't Dwell on It
The important takeaway with this is to not dwell on this issue very long during your interview. Address it quickly when asked, and move forward. Never volunteer why you left unless you are specifically asked. The reason why is that the hiring manager may not have noticed your work history and/or may not even care that you job hop. Don't give him/her a reason to care about why you job hop.
---
Resume, interview and other career-related articles written by Tony Lim of Jobonomics.com. Empowering Job Seekers.
Chronological vs. Functional Resumes
Your resume has about 30 seconds to impress a recruiter. Choosing the right resume format can help put your resume in the "to interview" stack. The good news is that for most professions, there are just two types of resumes to choose from: chronological and functional.
While each type of resume has its own benefits, recruiters do prefer one format over the other.
Chronological Resume

Three out of four employers prefer chronological resumes. In fact, most online job sites only accept this type of resume.
So what is a chronological resume? A chronological resume is a timeline of your work experience, in reverse order. In other words, your most recent experience will be listed on your resume first and your least recent experience will be listed on your resume last
A chronological resume is best suited for individuals who:
are entering the workforce and applying for jobs related to his/her educational background; or
show a steady progression in his/her career over the years; or
are reentering the workforce and performing the same type of work; or
are changing industries, but performing the same type of work.
Recruiters tend to like the chronological resume format because it shows a logical progression in the candidate's career. The format is also easier for recruiters to read.
Functional Resume

If you feel that your previous work history is a major obstacle for you in finding a new job, a functional resume might be right for you. Functional resumes can be used by individuals who:
have gaps in his/her work history; or
completely change careers/professions; or
switch jobs often due to job hopping or temporary work assignments.
A functional resume allows you to organize your resume by the skills that you have, rather than by your dates of employment (as required in the chronological format).
Regardless of your work history, it is strongly recommended that you avoid using the functional resume format as it automatically raises a red flag when it comes across the recruiter's desk. Often times, individuals who use functional resumes have something to hide, and recruiters are aware of this.
In order to get around the red flag, briefly explain the situation upfront in your cover letter and submit a chronological resume instead.
---
Resume, interview and other career-related articles written by Tony Lim of Jobonomics.com. Empowering Job Seekers.
What Interviewers Want From You
You just got a call to schedule an interview with the hiring manager of your ideal company. The only problem is, you're not prepared.
The good news is that interviewers are generally looking for a few things when they interview candidates. If you can successfully demonstrate each of these four areas, you'll be in good shape during and after the interview.
You Are Who You Say You Are. If your resume states that you are a seasoned software developer or that you're a master at Microsoft Excel, be prepared to back up your claims with examples. Avoid that warm feeling inside when you're caught in a lie and be prepared to demonstrate everything that you list on your resume.
You're A Problem Solver. Companies hire people to help address a specific pain point in the organization. Find out what that pain point is, preferably before the interview, and provide the interviewer with examples from your previous jobs or educational experience that demonstrate your ability to solve similar problems.
You Have Great Communication Skills. A chain is only as strong as its weakest link. The interviewer wants to know if he/she hires you on the team, will you be able to communicate problems and ideas effectively to other employees? Can the interviewer trust you to build great internal and external relationships with his/her customers? Provide the interviewer with examples of how you used communication to successfully lead a team or project. You should focus on work-related stories. If you are recently out of school, you may use a school related example.
You're A Good Cultural Fit. This is one area that is beyond your control. Even if you manage to fly through the interview and answer every question perfectly, not being a good cultural fit for the hiring manager's team or company, will result in you not being hired. The interviewer is looking for someone who can blend in well with the organization and not someone who will be a liability in the long run. Before you interview, visit the company's website to learn more about the company culture.
It's almost impossible to determine what exactly the interviewer will be asking you. However, by approaching the interview addressing the interviewer's wants, you'll be moving one step closer to your dream job.
---
Resume, interview and other career-related articles written by Tony Lim of Jobonomics.com. Empowering Job Seekers.
How to Write a Thank You Letter (w/Sample)
A simple thank you note to the interviewer can go a long way. Often times, job seekers either forget to send a thank you note or don't find the value of sending one at all. The truth of the matter is, employers expect a thank you note, so plan on sending one no more than a day after your interview. No exceptions.
The good news is that you can send your thank you note via e-mail. If you want to take it a step further and stand out from your competition, send the interviewer a thank you e-mail and follow it up with a hard-copy in the mail.
Here is the basic structure of a thank you note:
Salutation. Dear Mr. ______ or Ms. _______ is a great way to start the letter.
Paragraph 1 – Thank You. This is where you you thank the interviewer for taking the time out of his or her day to meet with you to discuss the position. You can also mention how excited you were to hear or learn of something going on in the company.
Paragraph 2 – The Plug. Did you forget to mention something during the interview? Would you like to reiterate a certain point you made during the interview? Use this paragraph as your opportunity to do just that and mention how you're a great fit for the company.
Paragraph 3 – Your 411. Provide your contact information here so the interviewer can easily contact you if they have any additional questions.
Paragraph 4 – Thank You, Again. Say your final thanks to close off the letter.
Closing. "Sincerely," is a safe way to end the note.
And that's it! The letter should not take you more than 10 minutes to draft and send. This simple gesture will help you out tremendously in the long run.
A sample thank you letter in its entirety:
Dear Ms. Jones,
I wanted to thank you for taking the time to speak with me regarding the Marketing Assistant position at ACME Corporation. I really enjoyed speaking with you and learning more about the new marketing campaigns that you have planned for the company.
The interview strengthened my enthusiasm for the position and ACME Corporation. I strongly believe that my graphic design and public relations experience supporting industry leaders, coupled with my positive and out-going personality will serve me well, and I am certain that I can make a significant contribution to your organization over time.
Please feel free to call me at (714) 555-1212, if you would like any additional information that my portfolio did not cover. I can also be reached by e-mail at john@email.com.
Thank you once again for your time and consideration!
Sincerely,
John Smith
(714) 555-1212
---
Resume, interview and other career-related articles written by Tony Lim of Jobonomics.com. Empowering Job Seekers.