Appointment Phone Number: (714) 895-8799
Counseling Office Hours
Feb 4 – May 25:
8 am – 6 pm, Mon – Thur
8 am – 5 pm, Fri
Counseling Office Location:
2nd floor, Student Services Center
[Campus Map]
What is Golden Pathways
Golden Pathways is GWC's student success initiative that focuses on our students' pledge to earn and complete their degrees or certificates on time.
Our program helps high school seniors transition smoothly to college, teaches the skills and knowledge needed for college, saves money on their college tuition, and helps them graduate on-time.
Steps to Start:
1. TAKE THE SELF-PLACEMENT online. It only takes a few minutes, and it will help you identify whether you should take math and English support classes. We want all students to succeed in their college-level classes.
2. ENROLL. Sign-up for math (see chart below for pathway options) or English G100 (Freshman Composition). You will need at least 12 units to be in the program.
3. COMPLETE THE FAFSA. All students may be eligible for funding from our institution.
4. GET AN EDUCATION PLAN. Work with a Counselor to create a comprehensive education plan within the first year.
5. GET INVOLVED. Attend at least one campus event, sporting, or club event during your first year.
Click on chart to download [PDF] version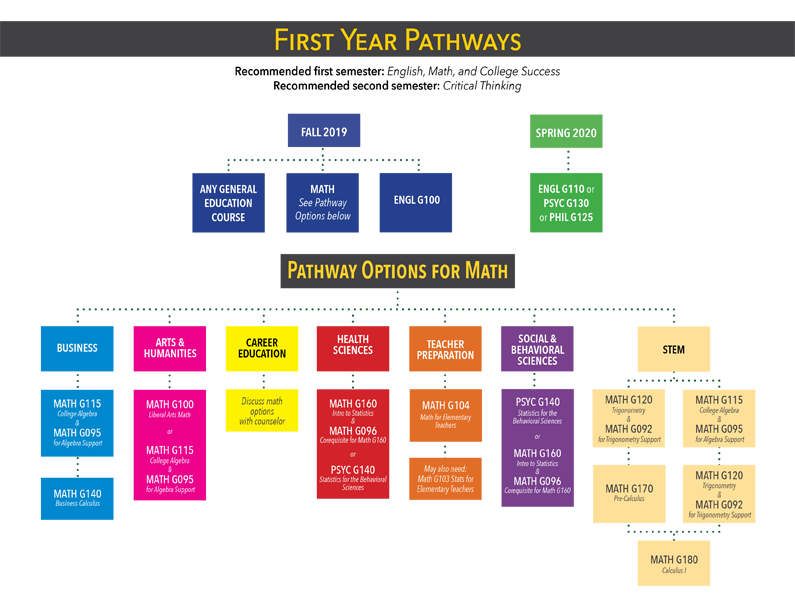 Benefits to Golden Pathways:

Priority Financial Aid
Application must be completed by August 1

Pathway Center
Specialized computer lab staffed specialists

Priority Registration
Early registration and guaranteed sections

Dedicated Counselor
Exclusive guidance for each student group

Pathways Specialists
Experts to assist with classes, financial aid & more

Financial Incentives
Financial help to assist students with their academics and free textbooks
Appointment Phone Number:
 (714) 895-8799
Counseling Office Hours
Feb 4 – May 25:
8 am – 6 pm, Mon – Thur
8 am – 5 pm, Fri
Counseling Office Location:
2nd floor, Student Services Center
[Campus Map]