Open Meeting Act & Agenda Requests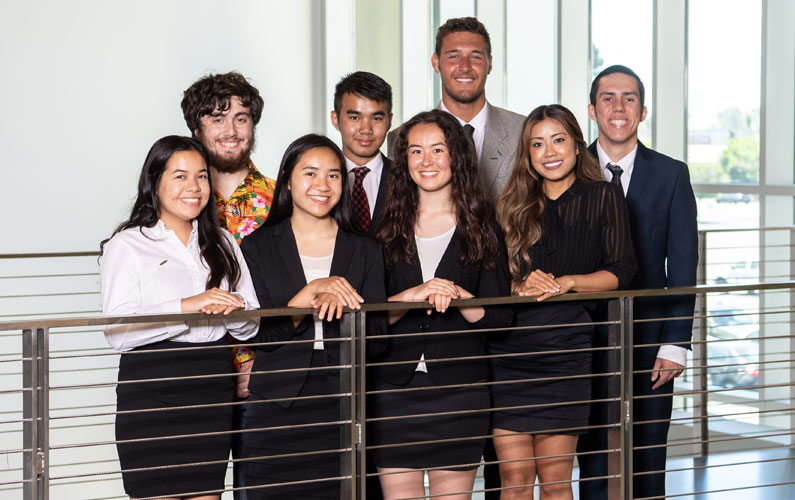 Any member of the public may address the Executive Student Council, a Standing Committee, or the Student Senate during public comment at the beginning of each meeting.  However, issues in public comment are not eligible for response, discussion, or action.
If you have an item that you would like to be placed on an upcoming agenda for any ASGWC Meeting, please submit an agenda item request.  All organizations of the Associated Students of Golden West College are required to follow the Ralph M. Brown Open Meeting Act, which requires agendas to be finalized in advance, so please submit at least one (1) week in advance.
Executive Student Council – Fridays, 10:30 am – 12:30 pm
in the Student Services Center, 1st Floor, Campus Life Conference Room (#1210)
Executive Student Council
2019 – 2020

Meeting Dates
Agendas
Minutes
July 15, 2019
A07.15.19 ASGWC [PDF]
M07.15.19 ASGWC [PDF]
Aug 19, 2019
SMA08.19.19 ASGWC [PDF]
SMM08.19.19 ASGWC [PDF]
Aug 23, 2019
SMA08.23.19 ASGWC [PDF]
SMM08.23.19 ASGWC [PDF]
Aug 30, 2019
A08.30.19 ASGWC [PDF]
M08.30.19 ASGWC [PDF]
Sept 6, 2019
A09.06.19 ASGWC [PDF]
M09.06.19 ASGWC [PDF]
Sept 13, 2019
A09.13.19 ASGWC [PDF]
M09.13.19 ASGWC [PDF]
Sept 20, 2019
A09.20.19 ASGWC [PDF]
M09.20.19 ASGWC [PDF]
Sept 27, 2019
A09.27.19 ASGWC [PDF]
M09.27.19 ASGWC [PDF]
Oct 4, 2019
A10.04.19 ASGWC [PDF]
M10.04.19 ASGWC [PDF]
Oct 11, 2019
A10.11.19 ASGWC [PDF]
M10.11.19 ASGWC [PDF]
Oct 18, 2019
A10.18.19 ASGWC [PDF]
M10.18.19 ASGWC [PDF]
Oct 24, 2019
SMA10.24.19 ASGWC [PDF]
SMM10.24.19 ASGWC [PDF]
Nov 1, 2019
A11.01.19 ASGWC [PDF]
M11.01.19 ASGWC [PDF]
Nov 8, 2019
A11.08.19 ASGWC [PDF]
M11.08.19 ASGWC [PDF]
Nov 15, 2019
A11.15.19 ASGWC [PDF]
M11.15.19 ASGWC [PDF]
Nov 22, 2019
A11.22.19 ASGWC [PDF]
M11.22.19 ASGWC [PDF]
Nov 26, 2019
SMA11.26.19 ASGWC [PDF]
M11.26.19 ASGWC [PDF]
Dec 6, 2019
A12.06.19 ASGWC [PDF]
 
Dec 13, 2019
A12.13.19 ASGWC [PDF]
 
Jan 17, 2020
SMA01.17.20 ASGWC [PDF]
 
Jan 24, 2020
SMA01.24.20 ASGWC [PDF]
 
Executive Student Council
2018 – 2019

Meeting Dates
Agendas
Minutes
August 17, 2018
A08.17.18 ASGWC [PDF]
M08.17.18 ASGWC [PDF]
August 23, 2018
A08.23.18 ASGWC [PDF]
 
September 7, 2018
A09.07.18 ASGWC [PDF]
M09.07.18 ASGWC [PDF]
September 14, 2018
A09.14.18 ASGWC [PDF]
M09.14.18 ASGWC [PDF]
September 28, 2018
A09.28.18 ASGWC [PDF]
M09.28.18 ASGWC [PDF]
October 5, 2018
A10.05.18 ASGWC [PDF]
M10.05.18 ASGWC [PDF]
October 12, 2018
A10.12.18 ASGWC [PDF]
M10.12.18 ASGWC [PDF]
October 19, 2018
A10.19.18 ASGWC [PDF]
 
October 26, 2018
A10.26.18 ASGWC [PDF]
M10.26.18 ASGWC [PDF]
November 9, 2018
A11.09.18 ASGWC [PDF]
M11.09.18 ASGWC [PDF]
November 13, 2018
A11.13.18 ASGWC [PDF]
M11.13.18 ASGWC [PDF]
November 16, 2018
A11.16.18 ASGWC [PDF]
M11.16.18 ASGWC [PDF]
November 30, 2018
A11.30.18 ASGWC [PDF]
M11.30.18 ASGWC [PDF]
December 14, 2018
A12.14.18 ASGWC [PDF]
M12.14.18 ASGWC [PDF]
January 14, 2019
A01.14.19 ASGWC [PDF]
M01.14.19 ASGWC [PDF]
January 22, 2019
A01.22.18 ASGWC [PDF]
M01.22.19 ASGWC [PDF]
February 8, 2019
A02.08.19 ASGWC [PDF]
M02.08.19 ASGWC [PDF]
February 14, 2019
A02.14.19 ASGWC [PDF]
 
February 22, 2019
A02.22.19 ASGWC [PDF]
M02.22.19 ASGWC [PDF]
March 1, 2019
A03.01.19 ASGWC [PDF]
M03.01.19 ASGWC [PDF]
March 15, 2019
A03.15.19 ASGWC [PDF]
M03.15.19 ASGWC [PDF]
March 22, 2019
A03.22.19 ASGWC [PDF]
M03.22.19 ASGWC [PDF]
April 2, 2019
A04.02.19 ASGWC [PDF]
 
April 5, 2019
A04.05.19 ASGWC [PDF]
M04.05.19 ASGWC [PDF]
April 12, 2019
A04.12.19 ASGWC [PDF]
M04.12.19 ASGWC [PDF]
April 19, 2019
A04.19.19 ASGWC [PDF]
SMA04.19.19 ASGWC [PDF]
M04.19.19 ASGWC [PDF]
SMA04.19.19 ASGWC [PDF]
April 26, 2019
A04.26.19 ASGWC [PDF]
M04.26.19 ASGWC [PDF]
May 7, 2019
A05.07.2019 ASGWC [PDF]
 
May 10, 2019
A05.10.2019 ASGWC [PDF]
M05.10.19 ASGWC [PDF]