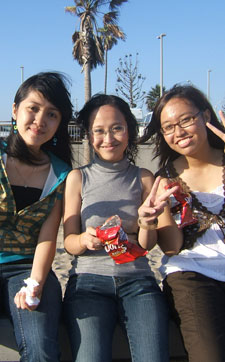 GWC offers its students a full set of support services including assessment testing, career assessment, child care, counseling, disabled student services, full-service international student center, mathematics learning center, student success center, and tutoring, among many others. Services most frequently requested by international students are detailed below.
Specialized Academic Counseling for International Students
Our dedicated Academic Counselors assist international students to clarify academic goals, select courses and prepare an educational plan. Specialized counseling also provides guidance and information about the U.S. system of education, learning styles, and study techniques.
International Student Program
The International Student Program provides international students with a full-service office and individualized counseling and guidance in the areas of admissions processing, registration, housing/homestay, immigration law, cultural adjustment, the U.S. system of education, practical training opportunities, and hosts a variety of local/on-campus activities.
Tutorial Learning Center
Free tutoring is available to all GWC students. Learning facilitators assess and recommend videos, workshops, seminars, study groups, and individual tutoring that will help students succeed in their classes.
Student Success Center
The Student Success Center is available to all students who wish to develop and improve their writing and reading skills.
A wide variety of services are offered, including independent study courses and individual consultation with English faculty and graduate tutors on topics ranging from punctuation and grammar to research papers.
International Student Orientation
This mandatory orientation assists international students with adjustment to college life in the U.S. and at GWC. This includes topics such as, the U.S. System of Education, immigration laws and student visa requirements, health care/insurance, drivers license procedures, banking guidance, and student activities. A campus tour is also provided.