5th Annual Peace
Conference 2011
Peace Studies

"A Better Tomorrow: Making Peace a Global Reality in 21st Century"
Creating a Just, Sustainable, and Compassionate World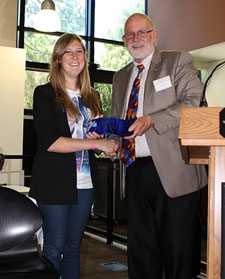 Over two hundred people celebrated a day of peace-building at the Golden West College's Annual Peace Conference on April 15, 2011. The conference's vision, "A Better Tomorrow: Making Peace a Global Reality in the 21st Century," was a creative forum for an interdisciplinary gathering of dialogues among students, educators, researchers, artists, activists, community leaders, and the general public.
Several speakers traveled from across the U.S. to share their expertise with the conference participants. The speakers raised thought-provoking questions and engaging ideas from a range of diverse topics, such as re-envisioning education, civil resistance and democratic change, and staying human in the face of all inhumanity. Local organizations collaborated by sharing resources and upcoming projects for activism in the community. Visual artists (OC Fine Arts and GWC Fine Arts) and performing artists (Feryan and Mehrbung Group) also contributed their unique gifts and creative talents towards a shared vision of peace and unity at the conference. Golden West College's Peace Studies Program, Student Activities office, Honors Program, and Peace, Mind & Body club students took the leadership of hosting the conference. Together, the conference participants and GWC campus community explored innovative ways to promote and practice peace in their individual, local, and global communities.
President Wes Bryan, who was last year's recipient of the award for creating peace through education, presented the 2011 Peace Studies Award to Invisible Children, a generation of young activists who are giving voice to child soldiers throughout the world. "Today is about finding our voice for peace and taking right action. Invisible Children took the right action and forwarded the cause of peace by giving voice to children who would otherwise be invisible to the world," stated President Bryan.
The conference was the first Zero Waste event at Golden West College. The Environmental Studies and Sustainability Club collaborated with Earth Resource Foundation to provide Zero Waste training to students and staff. The conference committee used a minimal amount of paper for advertising and relied on a network of grassroots community-building practices, such as social media and multiple outreach efforts. All organic waste from the conference were separated and sent to compost operations, which diverted the waste from local landfills.
On day of the conference, BPA-free water bottles were provided to attendees and many people chose to re-use their water bottles throughout the day, instead of using paper cups or plastic bottles. Lunch was served in a cafeteria-family style setting, where cloth napkins, silverware, and ceramic plates replaced the once-convenient, yet disposable paper napkins, Styrofoam plates, and plastic utensils. The left-over food went to a food donation program and any remaining food waste was collected for composting by Rainbow Disposal.
Overall, the event costs were reduced significantly since the purchase of disposables was eliminated, which reduced trash collection costs. The collective efforts of students, staff, and faculty sparked a momentum for building bridges between today's realities and tomorrow's possibilities for peace-building and sustainable practices on campus. With the vision of a better tomorrow, Golden West College inspired a new generation of visionary voices in creating a world that is just, sustainable, and compassionate.
Video from the 2011 Peace Conference
Meet the Speakers
JOHN BOCK is professor of anthropology, coordinator of the Environmental Studies Program, and founding director of the Center for Sustainability at Cal State Fullerton. Bock is interested in the interface of biology and culture, and focuses on five main research areas; parental investment and child development in a cross-cultural, socioecological perspective, family and household demography, health, and especially the relationship between access to resources and health outcomes among indigenous and minority peoples, the HIV/AIDS epidemic in sub-Saharan Africa, and the effects of economic development, globalization, market incorporation, and integration into national level political, economic, and social institutions on indigenous and minority peoples in North America, Africa, and elsewhere. He has conducted extensive research in Botswana and New Mexico over the last 20 years. Bock is author or co-author of over 30 articles and book chapters, has edited special issues of several prominent anthropology journals, and is co-editor of the recent volume The Anthropology of Learning in Childhood (Alta Mira, 2010). http://anthro.fullerton.edu/jbock/
BARBARA ENGLISH is a Certified Bioenergetic Therapist with over 20 years of experience. She is the Executive Director of Living Ubuntu, a non‐profit organization founded in response to her concern about the effects of mass trauma on populations around the globe. Much of her training has centered on Early Development, Infant Mental Health, and how to recover after abuse or trauma. She is a 2009 Carl Wilkens Fellow with Genocide Intervention Network.
FRAN FARAZ is the Director of the Peace Studies Program and is the Advisor to the Peace, Mind & Body Club at Golden West College. Her passion is teaching the young generation how to think versus what to think. Ms. Faraz teaches Introduction to Peace Studies and Nonviolence and Conflict Resolution at Golden West College. In addition to her teaching, she helped establish a Major in Peace Studies and articulated with 4 year universities for students to obtain degrees in the field of Peacebuilding. The annual Peace Conference is one method Ms. Faraz employs to raise awareness and bring attention to different issues that can contribute to a peaceful world. This is the 5th annual conference she has organized at Golden West College. (www.goldenwestcollege.edu/peace)
MARK LEE has been involved with the Krishnamurti Foundation of America (KFA) since it was founded. He has had several roles during this time, including Director of Oak Grove School and Executive Director of the KFA. His current role includes acting as spokesperson and board representative in the public and media arenas, assisting with special fundraising projects, strengthening the programs of the KFA, authoring special writing assignments, and completing The Book of Oneself, a sequel to The Book of Life, of which he was the editor.
HARDY MERRIMAN has worked in the field of strategic nonviolent conflict since 2002. He was director of programs and research at ICNC from 2005 to 2007. Prior to this, Mr. Merriman worked at the Albert Einstein Institution and contributed to and edited the book "Waging Nonviolent Struggle: 20th Century Practice and 21st Century Potential" by Gene Sharp. More recently, Mr. Merriman has published chapters about the dynamics of nonviolent action as a technique of political struggle and the role of nonviolent action in reducing terrorism. He also co-authored "A Guide to Effective Nonviolent Struggle," a training curriculum for activists. Mr. Merriman has worked with activists from around the world and has made presentations on various topics related to strategic nonviolent conflict at American University, the Australian Center for Peace and Conflict Studies (University of Queensland), the Center for Victims of Torture (Minneapolis, Minnesota), the Fletcher School of Law and Diplomacy (Tufts University), the International Peace Research Association Annual Conference (2006), James Madison University, Oberlin College, Stanford University, Swarthmore College, the United States Institute of Peace, and other venues. He also is on the Board of Advisors of Meta-Activism Project. He is a graduate of Oberlin College. http://www.nonviolent-conflict.org
JANE GRAY MORRISON makes films and writes about the environment. In more than 30 countries, she has chronicled biodiversity loss, animal protection, pollution, human health, and explored stunning interdisciplinary approaches to mitigating conflicts, whether in Ireland, India, China or the Antarctic. Morrison produced the Turner Broadcasting ten-hour series "Voice of the Planet" starring William Shatner and Faye Dunaway. She has produced numerous films for such networks as Discovery, PBS (also co-directing "A Day in the Life of Ireland" for Irish Television and WNET/New York.) Morrison recently completed a feature documentary trilogy: "Mad Cowboy", "No Vacancy" and "Hotspots." Morrison and Michael Tobias have just finished GOD'S COUNTRY – a book that chronicles the crises of industrialized agriculture and of human consumerism and their impact on habitat and biodiversity loss. As Executive Vice President of Dancing Star Foundation for nearly a decade, Morrison has worked with partners across the globe to increase protection for threatened habitats, as well as overseeing domestic sanctuaries protecting rescued farm animals.
DAVID J. SMITH is the national outreach officer for the United States Institute of Peace. He coordinates Institute-wide educational outreach and public programming efforts. Smith works closely with educational and professional associations, academic institutions, and public groups to promote Institute objectives. He speaks frequently to community, faculty and student groups on a variety of issues including civil society and peacebuilding, child soldiers, conflict resolution education and international education. Smith holds a B.A. in political science and urban affairs from the American University School of Public Affairs, an M.S. from the George Mason University Institute for Conflict Analysis and Resolution, and a J.D. from the University of Baltimore School of Law.
DR. PAUL K. TAYYAR is an English Instructor at Golden West College and Co-Coordinator of the Peace Studies Program. A three-time nominee for the Pushcart Prize, his books include Follow the Sun: Poems, Stories, and Reflections (Aortic Books), Everyday Magic (West-Coast Bias Press), Scenes From A Good Life (Tebot Bach), and Postmark Atlantis (Level 4 Press). Dr. Tayyar is the Founder and Director of World Parade Books, which has published works by Edward Field, Gerald Locklin, and Lyn Lifshin. (www.goldenwestcollege.edu/peace)
MICHAEL C. TOBIAS is a world-renowned global ecologist, author, filmmaker, and explorer. He is the author of 30 books and director /producer of nearly 100 films, documentaries and T.V. series. He is the President and CEO of the Dancing Star Foundation, a California nonprofit public benefit corporation devoted to animal welfare, international biodiversity conservation and environmental education. Tobias is recipient of many awards and honors including the international "Courage of Conscience Award" for his passionate commitment to animal rights, nature and nonviolence; and, the Parabola Focus Award for his long-standing body of work aimed at creating a better world. He received his Ph.D. from UC Santa Cruz in the History of Consciousness Program. For more information, visit: www.hotspots-thefilm.org www.dancingstarfoundation.org
Invisible Children
KOMAKECH GEOFFREY NVEKO is twenty-five, and was born and raised in Gulu. He works as a mentor for Invisible Children's office in Uganda. Geoffrey has a deep interest in psychology, and offers psychosocial support to rehabilitate those who have been traumatized by war. He can't wait to experience America for the first time as he conquers Sunset Blvd and the Santa Monica Pier on the Greater LA tour. http://www.invisiblechildren.com
CHELSEA STEELE is from Orlando, FL. She likes pancakes, watching movies, sushi, ice cream, her Snuggie, driving, raspberry tea, traveling, acting, ice cream, music, bodies of water, and adventure. As a high school student, Chelsea was a leader in her Invisible Children club. She is so excited to see young people take that same leadership on their own campuses in Southern California this spring as she is embarking on her second tour this spring as the leader of the Greater LA team. http://www.invisiblechildren.com
ELISSA O'DELL, a native Floridan, recently graduated with a Family Studies degree from Samford University in Birmingham, Alabama. Her hometown claims to be both the manatee capitol of the world and home of the second largest Walmart in America. From eating sushi in Japan to swimming with sting rays in Grand Cayman, to studying Spanish in Spain, to watching river dance in Ireland, Elissa appreciates adventure and seeing the world. She is looking forward to adding an Invisible Children tour through LA to her list of incredible experiences. http://www.invisiblechildren.com 
BRIAN McGILL, 22, is fresh out of college at the University of Arizona. A San Diego native, he's eager to explore more of Southern California on the Greater LA tour. He's a runner, so if you see the Invisible Children van at a LA gas station, he may be running laps around it to keep his legs strong. Our favorite factoid about Brian, he minored in Chinese. http://www.invisiblechildren.com
More information
2011 Golden West College Peace Conference: Please join us on Friday, April 15th for a day of peace-building.  The objective of the Peace Conference is to promote peace and humanity by building bridges between today's realities and tomorrow's possibilities. Conference participants will explore innovative ways to promote peace and nonviolence individually, locally, and globally.
The 2011 Peace Conference will feature the following presentations (in order of appearance):
"Re-envisioning Education," Mark Lee, Krishnamurti Foundation of America Board representative. kfa.org
"Shades of Green: Sustainability and Self-determination," Dr. John Bock, Professor, California State University Fullerton. anthro.fullerton.edu
"Biodiversity, Democracy and Non-Violence," A discussion by Jane Gray Morrison and Michael Charles Tobias. Michael Tobias, a world-renowned global ecologist, author, filmmaker & explorer. Jane Gray Morrison is the Executive Vice President producer of the Dancing Star Foundation. dancingstarfoundation.org
KEYNOTE: "Evolving Ways of Peacebuilding: New  Frontiers for the 21st Century," David Smith, United States Institute of Peace (USIP). usip.org
"Civil Resistance and Democratic Change: Enduring Truths and New Developments,"  Hardy Merriman. Nonviolent-conflict.org
"To Be Announced," Barbara English, Executive Director of Living Ubuntu. Livingubuntu.org
"Women and Peace: an untapped resource," Fran Faraz, Director of the Golden West College Peace Studies program. goldenwestcollege.edu/peace
"Child of the Desert, Child of the Sea: Poems from a Bicultural Boyhood" Dr. Paul Tayyar, Co-Coordinator of the Golden West College Peace Studies program. goldenwestcollege.edu/peace
The event will include musical performances by artists exhibiting peace-building through thought-provoking lyrics, art, music, and dance. There will be a special presentation of the GWC's 2011 Peace Studies Award.
The annual Peace Conference is sponsored by Golden West College and its Peace Studies Program, Student Activities, Peace, Mind, & Body Club, and Associated Students organizations.  In addition, the event is in collaboration with United States Institute of Peace, International Center for Nonviolent Conflict, CSU Dominguez Hills, CSU Fullerton, UC Irvine, CSU Pomona, and the City of Huntington Beach.