6th Annual Peace
Conference 2012
Peace Studies

"Peace Renaissance"
Creating Peace through Sustainability, Education, Nonviolence, Conscious Democracy, Health, and Artistic Creativity
A Day Dedicated to Peace at GWC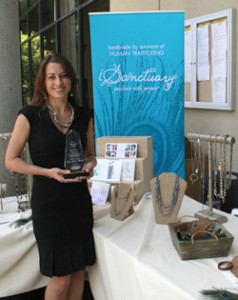 On Friday, April 20th, Golden West College hosted the 6th Annual Peace Conference. The well attended conference featured panel discussions, interactive workshops, and musical performances that were focused on a variety of peace-oriented subjects—environmental sustainability, global human rights, non-violent conflict resolution—as well as lectures designed to empower and inspire participants into making a meaningful difference in their own communities.
The 2012 Peace Award was presented to iSanctuary, an organization that helps those freed from enslavement to sustain themselves with marketable artisan skills. iSanctuary was founded by Stephanie Pollaro, a GWC Alumnus who was moved into action when she learned that over 800,000 people each year are victims of human trafficking and 14,000-17,000 are trafficked into the United States. The organization maintains facilities in India and here in Orange County.
For the second year, this was a Zero Waste event. The conference committee used a minimal amount of paper for advertising and relied on a network of grassroots community-building practices, such as social media and multiple outreach efforts. Reusable mugs, plates and cloth napkins were donated by the GWC staff, and all organic waste from the conference were separated and sent to compost operations, which diverted the waste from local landfills.
Peace Award
People are trafficked.* Victims are rescued. Then what?
International Sanctuary ends the cycle of human trafficking through providing self-sufficiency options to survivors.
Stephanie Pollaro, President and Founder  
Stephanie Pollaro's passion for empowering women and children suffering in the bonds of sexual slavery was born from a magazine article that she read in May 2003.  The article outlined the brutality of human sex trafficking in India and around the world.  International Sanctuary is the realization of Stephanie's dream to combat the atrocity of human trafficking. Originally a California resident, Stephanie has lived in Mumbai, India since 2006, where she works with young women ages 14-25 rescued from commercial sexual exploitation; establishing a sanctuary center is where  trafficking survivors come on a daily basis to learn the art of jewelry-making.  In addition to driving International Sanctuary's strategic direction as president, Stephanie is responsible for providing much of the first-person care and training to the girls who participate in iSanctuary's programs.
Stephanie has come to understand the real life challenges survivors face on a daily basis. Through these experiences, iSanctuary has built its philosophy: focusing on the individual survivor by providing a sanctuary, a safe place where she can thrive. Stephanie's sacrifice has provided a pathway to allow others the opportunity to contribute to a cause beyond themselves. Her dedication not only directly inspires the women and girls she serves, but also those who are impacted by her story.
Stephanie holds a Master's degree in Counseling from California State University Long Beach, and was selected as one of OC Metro Magazine's "Top 40 Under 40 Business Entrepreneurs of 2009." She has received the Soroprimist Ruby Award for "Women Helping Women" in 2011 and served as Golden West College 2011 commencement speaker.
It is Stephanie's objective to see girls living lives free of bondage and full of hope.
*Human trafficking is the illegal trade of human beings for the purposes of exploitation: modern-day slavery. 800,000 people are traffciked each year.
Peace Conference Program
2012 Golden West College Annual Peace Conference Program
Creating Peace through Sustainability, Education, Nonviolence, Conscious Democracy, and Artistic Creativity
Program Schedule
8:30 a.m. – Registration, Breakfast, & Networking
9:00 a.m. – Opening Ceremony & Dance by Salma Allam
Fran Faraz, Director of Peace Studies Program, Golden West College
9:05 a.m. – Welcome to 2012 Peace Conference
President Wes Bryan, Golden West College
9:10 a.m. – Recognitions & Acknowledgments
Fran Faraz, Director of Peace Studies Program, Golden West College
Dr. Paul Tayyar, English Professor and Director of Honors Program, Golden West College
9:15 a.m. – Program Overview & Panel Moderation
Chip Royston, Anthropological Philosopher, Professor at Cal State Fullerton
Panel I "Exploring the Arts as a Creative Catalyst for Transformation"
Kelly Thornton Smith, Founder and Chair of the Board for the Center for Living Peace in Irvine
Karen Blessen, Founder and President of 29 Pieces and Program Manager for MasterPEACE
Lisa Schultz, Founder of TheWhole9.com and The Peace Project
10:30 a.m. – Panel II "Envisioning Everyday Sustainable Living"
Lance O'Donnell, Faculty at College of the Desert and Cal Poly PomonaArchitectural Design
Shadi Shariat, Urban Agricultural and Permaculture Consultant
Hadley McGregor, Golden West College student
          
11:30 a.m. – Interactive Workshops 
Dr. Paul Tayyar, English Professor and Director of Honors Program, Golden West CollegeDr. Gloria Garrett, social artist and founder of Glorious Journey Photography
Chanel Plett, Artist and Poet
Deborah Orrill, Director of Recycling Resource Management Program, Golden West College
Toyota Presentation
12:00 p.m. – Lunch and Musical Performance by The Red River
The GWC Art Gallery will be available for viewing all day
1:00 p.m. – Presentation of the 2012 GWC Peace Award
1:15 p.m. – Panel III "Awakening Human Potential with Dignity through Human Rights" 
Tim Aye Hardy, United Nations, UNESCO Chair of Global Human Rights Leadership Forum
LeeAnn McIlroy Langton, Lecturer at Cal State University, Long Beach
2:45 p.m. – Break
3:00 p.m. – Panel IV "Building Bridges in Creating Collaborative Communities"
Paulina Gonzalez, Executive Director of Strategic Actions For Just Economy (SAJE)
Dr. Daniel Wehrenfennig, Director of the Conflict Analysis and Resolution Program, UC Irvine
Iosefa Alofaituli, Executive Director of Oak View Renewal Partnership
4:30 p.m. – Transformation – Chip Royston, Fran Faraz, Paul Tayyar & Solana Price 
5:00 p.m. – Closing Celebration 
Education breeds Confidence. Confidence breeds Hope. Hope breeds Peace.
Speaker/Panelist Bios
Salma Allam is a dancer, actor, choreographer and writer. In addition to her dance work in films and television shows, Ms. Allam toured with Don Omar through the Americas and she has appeared in Summerstage with Viewsic Expressions. She received her two-year certificate program at the Merce Cunningham Studio, and she has trained at the Deena Levy Theater Studio. Ms. Allam is the co-founder of Movement in C, is the artistic director of the Salma Allam Dance Theater, and she is currently a dance instructor at the Brooklyn Music School. Her choreography and writing credits include, Eternal Bleeding, Bound by Love, Things My Mother Taught Me: A Daughter's Journey, Roses on the Floor, and Bamboo Sticks.
Iosefa Alofaituli As the Executive Director of Oak View Renewal Partnership (OVRP), a grassroots non-profit organization based in Huntington Beach, CA, Mr. Alofaituli is responsible for the organization's strategic planning, operations, programming, and fund development. As the result of his collaborative efforts with residents, public and private partners, Mr. Alofaituli has facilitated the development of a mobile clinic, monthly community cleanup, youth soccer league, community garden, farmer's market, and micro-enterprise incubator. Prior to his involvement with OVRP, he served as a Peace Corps volunteer for over two years in a small fishing village in the Dominican Republic. He served as an Economic Development Advisor to the village's 2000 residents, and through collaborations with local individuals and organizations, Mr. Alofaituli led the development of an artisan school, micro-enterprises, an eco-friendly stove project, a business development course, and a travel clinic.
Karen Blessen is an award-winning freelance artist and writer who, in 1989, won the prestigious Pulitzer Prize. She has traveled to Africa as a member of the Save the Children's HIV/AIDS Leadership Council, and in 2005 she illustrated Peace One Day: The Making of World Peace Day (Putnam). Ms. Blessen is the Founder and President of 29 Pieces, a Dallas-based organization focused on creating art that uplifts, teaches, and heals. She is the Program Manager for MasterPEACE, an in-school, hands-on program using art to teach young people about peacemaking and nonviolence. Now in its fifth year, the 14-lesson program has been taught to more than 3,000 Dallas students. Ms. Blessen was recently named by the Dallas Observer as one of three MasterMinds of the Arts in Dallas.
Fran Faraz is the Director of the Peace Studies Program and is the Advisor to the Peace, Mind and Body Club at Golden West College. Ms. Faraz teaches Introduction to Peace Studies and Nonviolence and Conflict Resolution, and she recently established a major in Peace Studies that articulates with several local 4-year universities. This is the 5th annual Peace Conference that Ms. Faraz has organized, and her goal is that with each passing year, the conference further helps to raise awareness and knowledge of a variety of peace-related issues.
Dr. Gloria Garrett is a social artist, a fine art photographer and the founder of Glorious Journey Photography (GJP). Her mission is to give nature a voice, increase compassion for the beings and wild places shown in her images and inspire people to remember their connection to nature. GJP is a social venture enterprise, donating all profits from the sale of images to support non-profit organizations fostering peace, justice and environmental sustainability. Dr. Garrett holds an MBA in finance from the University of Texas in Austin and a PhD in energy medicine from the New Mexico Theological Seminary.
Paulina Gonzalez is the Executive Director of Strategic Actions For Just Economy (SAJE), a "place- based" organization in South Los Angeles that works to improve the quality of life and opportunity for the 200,000 residents of the area known as the Figueroa Corridor. SAJE works with local residents to build a healthy and thriving community by engaging residents in the City and Community Redevelopment Agency's land use planning process. This project seeks to increase the amount of affordable and safe housing and green space in the area, educates residents so that they can advocate for their rights as tenants, works collaboratively with community clinics and other nonprofit organizations to improve health and reduce the negative health impacts of slum housing on children and families, and works with community members to advocate for responsible development that will bring quality jobs to the Figueroa Corridor.
Tim Aye-Hardy Born and raised in Rangoon, Burma (Myanmar), Mr. Aye-Hardy participated in the 1988 student-led protests in Burma by giving speeches to thousands of students on human rights while he was a student at the Rangoon Art and Science University (R.A.S.U). Later, Mr. Aye-Hardy was expelled from the university due to his involvement in the protests. After a 1989 military coup took control of the country, Mr. Aye-Hardy immigrated to the U.S. He attended California Polytechnic University, Pomona and San Diego State University, and earned his B.S. and M.S in Computer Science in 1998 and 2007 respectively. Mr. Ay-Hardy is currently Co-Chair and Facilitator of the International Forum Planning Committee for the UNESCO Chair Global Human Rights Leadership Forum, and he is the Director of Outreach with Burma Global Action Network.
LeeAnn McIlroy Langton is a lecturer at California State University, Long Beach where she teaches in the University Honors Program, The Department of English, and The American Language Institute. She was named an Outstanding Straight Ally for CSULB's LGBT Lavender Graduation Ceremony and is a designated Safe Faculty Member for CSULB's LGBT Student Association. A graduate of UCLA and CSULB with degrees in Linguistics, Professor Langton has served in the United States Peace Corps in East Africa. She is a mentor teacher for CSULB's Partners For Success program, an initiative that supports first-generation college students and promotes bi-literacy. Ms. Langton was named Most Valuable Professor for CSULB's Honors Program in 2011.
Hadley McGregor is a sophomore at Golden West College, who taught herself to sew at the age of seven: "As I grew up my reasons for continuing to sew changed from simple curiosity to a productive hobby that allows me to create my own unique style of clothing inspired by past eras. However, fashion is not my main motivation for making clothes. The biggest reason I make my own clothes is that I am no longer supporting companies who practice the use of sweatshop labor. I believe there are many steps and strategies to stop large companies from using sweatshop labor.
Lance O'Donnell, AIAMr. O'Donnell received his Bachelor of Architecture degree from Cal Poly San Luis Obispo in 1991 and his Master of Architecture degree from UCLA in 1994. His Palm Springs office, o2 Architecture, is dedicated to discovering the essence of place, and his work engages the senses and intellect with a poetic connection to site and rigorous environmentally crafted modernism. Mr. O'Donnell joined the faculty at the College of the Desert in 1994 and the faculty of Cal Poly Pomona in 1996, where he has taught architectural design and sustainability for the past two decades. His honors include recognition by the California Energy Commission in 1998 for Outstanding Sustainable Design Teaching and in 2001 by the American Institute of Architecture California Council.
Chanel Plett Based in Los Angeles, Chanel Plett is an accomplished artist, graphic illustrator, and poet. She has designed the covers to several World Parade Books, including Donna Hilbert's The Green Season, Regina Nervo's Horizon's Pocket, and Clifton Snider's Moonman: New and Selected Poems. The most recent exhibition of her work in Los Angeles was at The Chasm Gallery, and her poetry has recently been featured in the journals Cynic and Black Heart Magazine, as well as the bestselling poetry anthology, Beside the City of Angels: An Anthology of Long Beach Poetry.
Chip Royston III, M.A. Anthropological Philosopher. Professor of Human Services and Anthropology at California State University, Fullerton, Mr. Royston is profoundly interested in the human condition; past, present, and future. He also has many interests outside of the classroom. He has an integral partnership with the Center for Living Peace and has twice been a keynote speaker at the Golden West College Peace conference. He authored an empowering children's book endorsed by Dr. Jane Goodall. He was a founding member of Bundle of Twigs, a Long Beach-based community activism leadership organization. Mr. Royston interest in creating Peace has been nurtured by a life-long dedication to service and has created this purpose statement to guide his life: We Are One Global Family Where Each and Every Human Being can See Themselves in the Eyes of Another; Regardless of Different Background, Experience, or Belief.
Lisa Schultz is the founder of The Whole9.com, an international creative community, and The Peace Project which was founded to show that great change can happen very quickly if creative people work together. Towards that goal, The Peace Project, creates coalitions of activists, artists, and volunteers to take action to help endangered communities and promote the cause of peace around the world. In 2010, The Peace Project provided 10,000 pairs of crutches to communities throughout the war-torn country of Sierra Leone. This year, The Peace Project is planning to build the first Peace Center in Sierra Leone, Africa, and will be launching the third annual Call-for-Artists, where the proceeds will go towards building The Peace Center, proving that art really can change the world.
Shadi Shariat Over the course of her career, Ms. Shariat was the program coordinator for the Supportive Housing Project, a program designed to provide housing and services to homeless individuals, and she has served as a board director at the nonprofit organization, The Grain Project. Ms. Shariat has been involved in initiating and implementing the first city-sponsored cooperative garden in central Santa Ana, where low-income residents engage in learning how to grow and harvest organic food. She has coordinated Community Harvest, which promotes community-building through encouraging residents to share their backyard produce with families in-need. Currently, Ms. Shariat is a consultant to residents, businesses, organizations and schools in building urban gardens, adopting zero-waste initiatives, and developing sustainable agriculture programs alongside a variety of organizations, among them Transition Towns, Slow Food, and Oak View Renewal Partnerships.
Kelly Thornton Smith is the Founder and Chair for the Center for Living Peace, based in Orange County, California. The Center for Living Peace provides a beautiful and inviting place for people to experience classes and programs that encourage children and adults to: "Be the Change they wish to see in the world." In partnership with the University of California, Irvine, the Center for Living Peace sponsors Living Peace, a series of conversations with international leaders committed to making the world a healthy, sustainable, and compassionate place. Ms. Smith is a member of the Orange County Community Foundation Board of Directors, and she serves also on the Foundation Board of the Orange County High School of the Arts.
Dr. Paul Tayyar is an English Instructor at Golden West College and Co-Coordinator of the Peace Studies Program. His books include Follow the Sun: Poems, Stories, and Reflections (Aortic Books), Scenes From A Good Life (Tebot Bach), and Postmark Atlantis (Level 4 Press). Dr. Tayyar is the Founder and Director of World Parade Books, which has published works by Lamont Award-winning poet Edward Field and Pen-Award winning author Rafael Zepeda. He holds a Ph.D. in American Literature from U.C. Riverside, and he is a five-time nominee for the Pushcart Prize.
Dr. Daniel Wehrenfenning A professor of political Science at UC Irvine, Dr. Wehrenfennig is the founder of the Olive Tree Initiative, which seeks to promote conflict analysis and resolution through Experiential Education by providing students and community with the education, training and experiences needed to better negotiate and solve conflicts. Dr. Wehrenfenning was the Producer of the documentary film, Beating the Odds: Malawi's Peaceful Quest for Democracy, and he serves on the board of the Center for Citizen Peacebuilding at UCI. He is the recipient of numerous prestigious fellowships, including numerous Kugelman Citizen Peacebuilding Research Fellowships awards. He has published scholarly articles on the Israeli-Palestinian peace process, global human rights, and the relationship between economic terrorism and globalization. Dr. Wehrenfenning is also the Director of the undergraduate certificate program in conflict analysis and resolution.
Exhibits
Elmore Toyota is pleased to present the Prius family line-up to our colleagues at Golden West College.  Toyota is bringing excitement for 2012. With the introduction of the Prius C and the Prius plug-in, Toyota now has four distinctive models which will address customer's specific needs while delivering innovative styling, excellent fuel economy, and a versatile driving experience. Toyota's revolutionary Hyrbrid Synergy Drive has become a standard for Hybrid vehicles. It continues to deliver amazing efficiency, ultra low emissions and excellent performance. With the continued support of Golden West College we are able to contribute to the well-being of our planet and maintain an eco-friendly environment for our future.
Community Exhibition Tour 2012: Conversation With the Earth, Indigenous Voice on Climate Change. This tour originated at the Smithsonian!
Conversations with the Earth (CWE) is a way of listening closely to traditional custodians of the world's biocultural diversity in order to formulate viable global responses to environmental challenges. CWE's opening conversation brings Indigenous Voices on Climate Change to convey local experiences of climate change. Grounded in respectful long-term partnership between indigenous-led organizations and award-winning experts in participatory video, journalism, photography, and audio, CWE conveys local accounts of the impacts of climate change on indigenous communities, stories of the unintended consequences of imposed mitigation eorts on local livelihoods, and examples of traditional knowledge and its value in developing appropriate responses to climate change. CWE asserts indigenous peoples' inherent rights to their territories, lands, and resources as a necessary condition of maintaining and enhancing resilience of local social-ecological systems to multiple converging global crises, including climate change.
Entertainment
The Red River Originally founded in Long Beach, California, by acclaimed singer-songwriter Bill Roberts, The Red River's latest album, Little Songs About the Big Picture, was selected as one of 2010's Top Ten Albums. Writing about the album, music critic Bob Boilen writes, "The Red River finds beauty in the day-to-day. There's elegance in the unremarkable. Little Songs About the Big Picture celebrates the mundane. At times, the way Bill Roberts writes about the wonder of life, it's reverent, bordering on religious. And when his eight friends join in—on viola, French horn, keyboard, drums, guitar and other voices—and this nine-piece band does its slow build, it feels spiritual and sentimental.