7th Annual Peace Conference 2013
Peace Studies

Sustainable Peace
The 2013 Peace conference provides a unique fourm for building a culture of peace through intellectual and experiential workshops and dialogues. Attendees will engage in conversations about various topics.
Peace Journalism: Technology and Social Media
Ending Poverty: Micro-Credit Lending
Service Learning: Innovation in Education
Addressing Bullying through Peer Mediation
Women and Peacebuilding
Environmental Sustainability
The Future of Global Democracy
The Value of Meditation
Art in the Context of Peace
We will discuss initiatives and ground-breaking visions for a place where we can live and create a just, compassionate and sustainable world together.
2013 Peace Award Recipient – Jack Shaw, Local Social Entrepreneur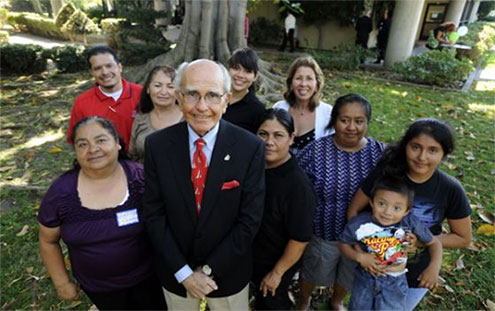 The energy was felt upon walking through the automatic, tinted doors. A steady buzz of quiet talking, tables filled with eclectic handmade trinkets, and a common feeling of excitement was held in the Student Activities Center on April 19th… it was the seventh annual Peace Conference. The event was commenced by Native Americans in traditional dress, performing for the crowd. Soon, many intelligent and noteworthy speakers filled the stage, each with different important ways that our world either needs peace, or is slowly on its way towards a violence free, conscientious earth. There were moments of great joy such as when Jack Shaw received the 2013 Peace Award for his relentless work in narrowing the gap between Oak View and the rest of the Huntington Beach. However there were also moments that caused deep inward reflection, talks that caused one self to rethink the ways in which a daily life was lived, and how the seemingly simple choices made everyday have effects that occur worldwide for a lasting time. In accordance with the idea of a more sustainable future, the event used minimal paper advertising, kept the entire day zero-waste, and supplied delicious vegan food. Overall, the success of the conference was felt by everyone who was there that day- a feeling of light, love, and gratitude for another successful Peace Conference.
Speaker and Panelist Bios
Richard V. Anthony is an internationally recognized expert in the area of Resource Management. In the past several years he has led international dialogues on Zero Waste in Brazil, the Philippines, and Italy. Mr. Anthony is a founding member of the Board of Directors of the California Resource Recovery Association, the Grassroots ecycling Network, and the Zero Waste International Alliance. He is a Professor of Zero Waste at Irvine Valley College and an Instructor in the Californian Resource Recovery Association Certificate Program.
Miranda Rondeau is a devotional singer, musician, frame drum artist and teacher, whose music is inspired by the inward journey. Her vocals transcend language, bypasses the intellect, and is devotional and invoking in nature. She is online of the founding members of the Luvamp Project, a collective of artists presenting ceremonial interactive concerts with modern devotional music. She teaches and facilitates frame drum workshops and vocal exploration playshops.
Christian Bracho is a Doctoral Candidate in the International Education program at New York University. After receiving his B.A. in English and Comparative Literature at the University of Rochester, he completed a Master's degree and teaching credential and went on to work as an English teacher, department chair, and teacher trainer for the Hacienda La Puente Unified School District in Los Angeles County. His doctoral research focuses on teacher activism in Oaxaca, Mexico, exploring the ways teachers mediate and promote social change through education. At the Ahimsa Center for Nonviolence and Social Change at California State Polytechnic University at Pomona, Mr. Bracho mentors K-12 teachers as they develop curriculums about nonviolence.
Dr. Bridget Driscoll serves as the Director of Academic Advisement and is a faculty member in the Department of Heath Science at California State University, Fullerton. Prior to leading the Academic Advisement team, she was the Director of Freshman Programs where she developed, implemented, and assessed internationally recognized initiatives that directly enhanced the retention of first-time freshmen. Dr. Driscoll's professional interests include assessment, leadership in academia, and the relationship between public policy and higher education. Her commitment to assessment is demonstrated by the implementation of an online evaluation system within the Academic Advisement Center that has captured the voices of over 15,000 students and measured their proficiency in the identified student learning outcomes. In 2001 she earned Outstanding Faculty Recognition for students' academic success and professional development through advisement and assistance outside the classroom.
Robert Farnsworth received his first degree in Speech and Communication at Colorado State University with an interest in Natural Resource Conservation. He also has a BLA and MSLA in Landscape Architecture   from the University of Idaho, where his thesis explored rain water harvesting. He is a Professor of Horticulture and Landscape Design at Saddleback College, where his interests include California native plants, water conservation, sustainability, and horticulture therapy.
Steven Goldsmith is an experienced mediator and conflict resolution expert. He served as the Executive Director of Centinela Youth Services for 14 years, an agency that provides mediation and conflict resolution services to Los Angeles-area schools. In 2000, Mr. Goldsmith served on the Attorney General's Task Force on Safe Schools and on the Vice President's Safe Cities Partnership, and in 2002 he was selected to be a member of the national focus group on restorative justice organized by the National Institute of Justice. Mr. Goldsmith is the Co-Chair and Director of the Mediators Beyond Borders International Congress to be held in Istanbul, Turkey, in September 2013.
Heather Guay is the President and Co-Founder of Namaste Nepal – Helping Himalayan Children. Heather is an elementary and university educator and therapist from Southern California, USA. Heather first visited Nepal in December 2007 on a volunteer mission to bring scholarships to underprivileged girls from the lowest castes. That first experience in Nepal produced a deep desire and commitment in Heather to find ways to help and support the children and teachers of Nepal. Over the next four years, Heather would return to Nepal bringing scholarships, books, teaching materials, and providing training. In the summer of 2009, she, with the help of Digumber Piya and many donors and Nepali friends, built the first Children's Library in Bandipur, Nepal and then in December 2010 the second Children's Library was built in Saranpur, Chitwan, Nepal. Namaste Nepal – Helping Himalayan Children is the result of the belief that education, learning, collaboration and caring can literally change the world and also the belief that each person can make a difference.
Shirley Jahad serves as reporter, weekend anchor and host at KPCC: Southern California Public Radio. An award-winning journalist, radio correspondent and news anchor, her work has been honored by organizations including the Los Angeles Press Club and the Associated Press. Ms. Jahad is also a recognized documentary film producer, winning the Robert F. Kennedy Award, the National Associated Press Award and others for her film, Dreaming in Farsi. Ms. Jahad was recently named a fellow by the International Center for Journalists.
Koz Khosravani is an acclaimed speaker who has shared the stage with the President of the United States, as well as the Presidents and Chancellors of major universities such as UCLA, Berkeley, and Princeton. Mr. Khosravani has organized various TEDx events throughout the country, as well as organizing charity events to raise funds to help fight human trafficking, slavery and child hunger. In addition, Mr. Khosravani has taught Educational and Instructional Technology classes at UCLA Extension, and has designed Technology courses for UCLA and UCI Extension programs that focus on a variety of technological skills.
Cecelia Lynch is Professor of Political Science and Director of International Studies at the University of California, Irvine. She teaches and writes on international relations, religion and ethics, and social movements and civil society. Dr. Lynch's books include Beyond Appeasement: Interpreting Interwar Peace Movements in World Politics (Cornell University Press 1999), Law and Moral Action in World Politics (co-edited with Michael Loriaux, University of Minnesota Press, 2000), and Strategies for Research in Constructivist International Relations (with Audie Klotz, M.E. Sharpe, 2007). She has been awarded fellowships from the Social Science Research Council, MacArthur Foundation, Andrew W. Mellon Foundation, and the Henry Luce Foundation, and her current work concerns Islamic, Christian and interfaith religious ethics in world crises.
Tim Ringgold, MT-BC directs Sonic Divinity Music Therapy Services in Orange County, CA. He specializes in medical music therapy and currently is developing a music therapy program at the UC Irvine Medical Center in Orange, CA. Mr. Ringgold is a regular presenter at conferences at the regional and national level, and recently gave the first TEDx talk on music therapy. He completed his bachelor's degree in music therapy at Chapman University, and completed his music therapy internship at MusicWorx, Inc., in San Diego, CA. He is the current President-Elect of the Western Region AMTA, and the inaugural award-winner of the WRAMTA New Professional grant. Mr. Ringgold also offers CMTE business training called "Start Out Successful," empowering the next generation of music therapy business owners.
Arman Sadeghi is the Founder and CEO at All Green Electronics Recycling, LLC., an environmentally-friendly business that seeks to minimize electronic waste throughout Southern California. All Green offers free, proper and safe recycling of electronic waste to ensure that hazardous materials aren't dumped into American landfills or sent to Third World countries. The Harvard and Berkeley Business School graduate has partnered All Green with the cities of Huntington Beach and Fountain Valley in order to increase the scale of All Green's environmental mission.
Maggie Forster Schmitz is an international affairs consultant. She has over 10 years of experience in both the private sector and the non-profit world writing about various policy issues ranging from tensions in the Persian Gulf to issues concerning global health. Ms. Schmitz co-authored the article, "NATO Enlargement and Cost and Burdensharing Issues," in the collection NATO After Kosovo (Tilburg University Press, 1999) and she has contributed to various publications including Strategic Dynamics in the Nordic-Baltic Region: Implications for U.S. Policy and European Issues and Developments. Ms. Schmitz has also worked for non-profits in the US and in Germany. She holds an MA in European Studies and International Economics from The Johns Hopkins Paul H. Nitze School of Advanced International Studies (SAIS) and a BA in German Studies and International Relations from Mount Holyoke College.
Jack Shaw is the author of the book Governance and Risk, a Systems Approach (Wiley, 2003). A Founding Partner of the Shaw Consulting Group, an organization that focuses on issues of enterprise-wide strategic transformation, governance, and risk, Mr. Shaw is a former Dean of Claremont Graduate University's School of Management and Vice Chairman of Deloitte LLP. He is active in a number of philanthropic causes and an expert in fund-raising and governance.
Saumi Shokraee is a sophomore at Dana Hills High School, where he is currently President of the Science Club. After reading Carl Sagan's Pale Blue Dot, Mr. Shokraee realized the fundamental interconnectedness between humanity and the Earth. In 2012, he was a member of the youth council organizing the TEDx Youth Bommer Canyon conference as well as a speaker at the conference itself. This year, he was a part of his school's National Ocean Sciences Bowl team. With his passion for astronomy, Mr. Shokraee strives for a deeper understanding of the natural world.
Lekha Singh is a photographer and documentary filmmaker whose photos have been featured in the collections The Other Side of War: Women's Stories of Survival and Hope (National Geographic), The Making of an Activist (Friesens), Call to Love: In the Rose Garden with Rumi (Sterling), and most recently Pop-Up Pianos (Damiani). Ms. Singh's directorial debut, Beyond Right and Wrong: Stories of Justice and Forgiveness, is a feature-length documentary film that focuses on conflict zones such as Rwanda, Northern Ireland, Israel and Palestine, and gives voice to the stories of victims of violence and genocide as well as to those who have perpetrated those acts. The film was recently screened at the UN General Assembly.
Cece Sloan is one of the founders of Art New England, an art journal dedicated to publishing and promoting the work of female artists and educators, and she was the director of the first Cultural Arts Festival in Newton, MA. She has developed courses for UCI's Extension program, including "Women's Voices and Visions", and in 2005 she founded the Southern California Chapter of Unifem, the United Nations Development Fund for Women (later renamed the Southern California Chapter of UN Women), which focuses on eradicating women's poverty and inequality around the world.
Dr. Dallas Stout has worked in the non-profit community in Southern California for over two decades, including several years where he led the County's largest adolescent residential drug rehab and high school.  He has served on the Board of Directors for a variety of local, countywide and statewide programs for troubled youths and related issues. He is currently the President of the California Chapters of the Brady Campaign to Prevent Gun Violence and the California Brady Campaign Political Action Committee in Sacramento. Dr. Stout is on the Faculty at both California State University Fullerton and the University of the Rockies. He founded Doctors Consulting with his wife, Dr. Debra Stout, in 2004.
Joanne Tawfilis is a retired UN Executive (Director of Human Resource Management Services, United Nations Environment Program; and Director, Management Services, International Atomic Energy Agency) and former Director of the Women of Srebrenica Project in the former Yugoslavia under the Clinton Administration.  She is an award-winning careerist; winner of the Bob Marley Peace Award; recipient of the Peacemaker of the Year Award/My Hero Project, United Nations Association UNA USA (regional and local chapter); honored by the International Committee of Artists for Peace, the Youth For Human Rights International Peace Hero Award and a commendation from the California State Superintendent of Schools, to name but a few of her honors.
Adam Timm is the author of the book Stress is Optional! How to Kick the Habit, a best-selling text on managing stress in contemporary life. An emergency-dispatch operator for a decade, Mr. Timm started a meditation-based stress reduction program at the LAPD dispatch center. The first of its kind, the program has now helped over 100 dispatchers free themselves from chronic stress. Through his company, ZenLife Services, Mr. Timm offers coaching and consultation services to high-stress organizations and the people who work in them.
Artists and Contributors
Creative Glasswork
Touraj and Jila Hakimi are an award-winning husband and wife artist team residing in Newport Beach, CA. They are a free-form glass and jewelry artists who draw inspiration from observing and respecting the harmonious laws of life and the concept of compatibility. Their art is predominantly made with precious metals and dichroic glass, which has unique transparent accents. Their mission is to promote art, creativity, and the importance of education. They are true positive role models for artists of all ages to follow their dreams and utilize their talents.
The Abbas Premjee Project
The Abbas Premjee Project is a result of the collaborative efforts of Abbas Premjee and Latin percussionist/drummer Paul Perez. The goal of this project is simple; "A fusion of rock and jazz from the East and the West that brings minds, hearts and souls together." The Project is open to instrumentalists from all over the world who believe that music is much more than simply entertainment.
Abbas Premjee is from Karachi, Pakistan and plays guitar and mohan veena. He graduated with a Masters degree in classical guitar from SMU and discovered the mohan veena in 2006.  His latest CD "Crescent Moon" features this instrument. He is currently working as a performer and a composer for film and TV and lives in Irvine, CA.
Paul Perez is a native of Southern California where he has been playing drums and percussion for the last twenty years. Paul has made quite a name for himself and his playing can be heard on countless recordings and on film/TV.
Daniel (Thunder) Simpson is the bass player for the group. Dan is from Franklin, Indiana and has been playing bass since he was 10. He has played bass in several punk and metal bands and is currently the bass player for "Ashes and Flames" as well. He is self taught and earned his nickname "Thunder" from playing the bass too loud.
Taras Umrysh is an international violinist with experience playing in the Ukraine and the United States. Taras currently performs with local bands in the LA area and various other places. He teaches classical and jazz violin, as well as composing and recording his own music.
Conference Video
Click here to view all the videos from the 2013 Peace Conference