2019 Scholarships & Awards Ceremony
Tuesday, May 7th at 6:30 p.m. in the Golden West College Gymnasium with a reception immediately following.
Complimentary parking in Gothard parking lot
---
If you have any questions, please contact the Scholarship Office at 
scholarships@gwc.cccd.edu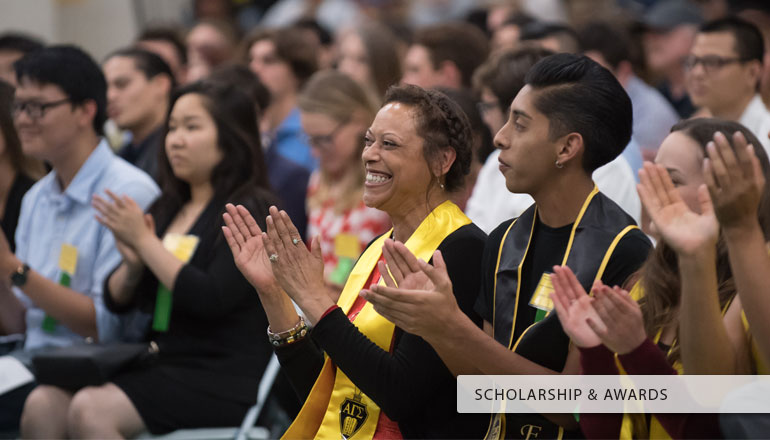 SCHOLARSHIP & AWARDS NIGHT
---
The Golden West College Foundation and the Scholarship Office requests the pleasure of your company at the
Annual
Scholarships and Awards Ceremony*
Tuesday, May 7, 2019
6:30 p.m.
Gymnasium
Reception immediately following the ceremony Complimentary parking in Gothard parking lot
*Notification of the recipients will be done on the Scholarship Website by the end of April 2019 and a personal email will be sent to the Scholarship Recipients.
---
Golden West College Awards Students $500,000 in Scholarships
During the annual Scholarships and Awards Ceremony held at Golden West College both students and donors are recognized for their commitment to academic achievement as well as civic and educational involvement.
In 2017 over 453 scholarships were awarded totaling over $500,000, a 28% increase from last year. Wes Bryan, GWC President, welcomed the packed crowd and introduced the speakers, president of the Board of Trustee's David A. Grant and GWC Foundation Board president Michael Grant.
Thanks to the generosity of our donors, 295 GWC students were honored with scholarships and awards during the evening. Kathleen Tran, a biological anthropology major attending UCLA received three awards. "It was an honor to receive these scholarships and it really helps me with a financial hurdle. Living expenses and tuition next year is going to be difficult for my family. My dream in becoming a doctor will be a little easier to reach thanks to GWC donors."