2019 Scholarships & Awards Ceremony
Tuesday, May 7th at 6:30 p.m. in the Golden West College Gymnasium with a reception immediately following.
Complimentary parking in Gothard parking lot
---
If you have any questions, please contact the Scholarship Office at 
scholarships@gwc.cccd.edu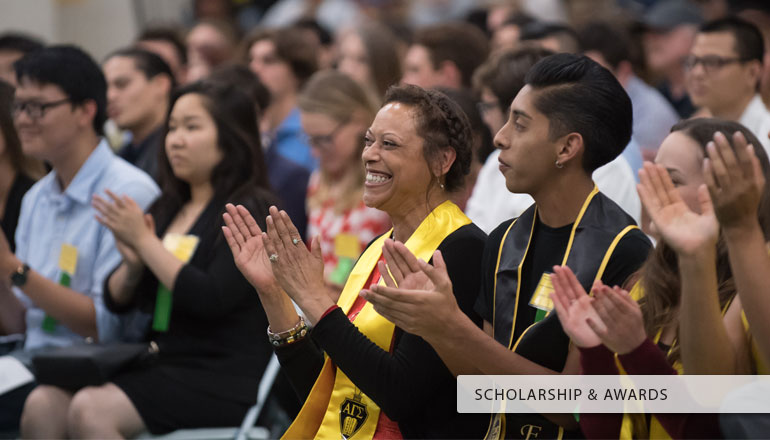 SCHOLARSHIP & AWARDS NIGHT
---
The Golden West College Foundation and the Scholarship Office requests the pleasure of your company at the
Annual
Scholarships and Awards Ceremony*
Tuesday, May 7, 2019
6:30 p.m.
Gymnasium
Reception immediately following the ceremony Complimentary parking in Gothard parking lot
*Notification of the recipients will be done on the Scholarship Website by the end of April 2019 and a personal email will be sent to the Scholarship Recipients.
---
Golden West College Awards Students $500,000 in Scholarships
During the annual Scholarships and Awards Ceremony held at Golden West College both students and donors are recognized for their commitment to academic achievement as well as civic and educational involvement.
In 2017 over 453 scholarships were awarded totaling over $500,000, a 28% increase from last year. Wes Bryan, GWC President, welcomed the packed crowd and introduced the speakers, president of the Board of Trustee's David A. Grant and GWC Foundation Board president Michael Grant.
Thanks to the generosity of our donors, 295 GWC students were honored with scholarships and awards during the evening. Kathleen Tran, a biological anthropology major attending UCLA received three awards. "It was an honor to receive these scholarships and it really helps me with a financial hurdle. Living expenses and tuition next year is going to be difficult for my family. My dream in becoming a doctor will be a little easier to reach thanks to GWC donors."
---
2019 Scholarships Recipients
CONGRATULATIONS TO THIS YEAR'S
2019 R. DUDLEY BOYCE OUTSTANDING STUDENT
Erin Joy Araneta
AND ALL THE SCHOLARSHIP RECIPIENTS FOR
THEIR OUTSTANDING SUCCESSES
Academic Senate Scholarship
Matija Jancic
Alan D. Rowe Memorial Digital Arts Scholarship
Henry Ha
Alpha Gamma Sigma Honor Society Scholarship
Abigail Anthony
Erin Joy Araneta
Francisco Edeza
Jessica Lachman
Manuel Leon
Elena Mosham
Alumni, Seacliff on the Green and Weiser Lock Scholarship
Ishini Wickramatunga
American Association of University Women (AAUW) – Westminster/Fountain Valley/Huntington Beach –
Shirley Pyle Memorial Scholarship
Gina Lee
American Association of University Women (AAUW) – Westminster/Fountain Valley/Huntington Beach Scholarship
Magaly Gerstenacker
American Legion Auxiliary Unit 327 Scholarship
Brianna Demes
Tegan Hopp
Alicia Vaugeois
Aminoil, C.B. Hill and Dennis F. Roughton
Memorial Science Scholarship
Oanh Nguyen
Anita June Duncan Memorial Nursing Scholarship
Haley Alexander
Melissa Bergesen
Shelby Buller
Brooke Chesser
Kimberly Dinh
Stephanie Duong
Roberto Garcia
Hailey Gaspar
Magaly Gerstenacker
Alanna Goss
Brianna Nicosia
Alicia Vaugeois
Ann Tyree Nursing Scholarship
Monica Ruiz
Anniversary Scholarship
Ehab Yasin
ASGWC Perpetual Scholarship
Elaine Anne Araneta
Laura Camacho
Katherine Cormier
Vanessa Cruz
William Diaz
Leah Fudim
Erica Hern
Leon Ho
Matija Jancic
Jessica Lachman
Adrian Montes
Brian Morales
Kha Nguyen
Quynh Nguyen Xuan Le
Linh Thi My Nguyen
Tammi Reid
Sydney Roberts
Miguel Roman
Kevin Tham
Pham Loan Phuong Tran
Assistance League of Huntington Beach
Philip Bardowell
Melissa Bergesen
Cathy Bui
Shelby Buller
Brandon Burris
Ashley Carrera
Caitlin Casey
Brooke Chesser
Karen Choi
Raul Damian
Jennifer Dempsey
Roberto Garcia
Hailey Gaspar
Magaly Gerstenacker
Jacqueline Guerrero
Lezah Hammack
Tegan Hopp
Lina Hua
Helen Huynh
Flavia Hwang
Annie Khuu
Marianne Kovar
Gina Lee
Pauline Long
Amber McConnell
Mariah Menier
Anthony Moval
Sandy Nguyen
Brianna Nicosia
Alexandra Polley
Magaly Ruiz-Hernandez
Angelina Seguin
Courtney Serrano-Hinson
Margaret Vargas
Alicia Vaugeois
Leslie Weaver
Augusta Barker Nursing Scholarship
Philip Bardowell
Flavia Hwang
Axel Family Scholarship
Ahmed Eissa Amer
Brandi Collins
Alyssa Gonzales
Tiffany Guevara
Olivia Nguyen
Ayjay & Nancy Wilson Music Scholarship
Sarah Cabrera
Bernard Gilpin Merit Scholarship for Physics
Bao Khanh Nguyen
Thinh Duc Nguyen
Bill and Ruth M. Brazney Memorial Scholarship
Cambria Greer
Bonnie and Radford Robinson Memorial Scholarship
Maya Basham
Nicolette Benedettini
Kevyn Camacho
Hiep Chau
Alexis Everson
Omar Galvan
Maria Garduno
Skyler Garza
Morgan Glover-Newsom
Jenna Hirao
Javanna Jesson
Ngoc Quynh Le
Matthew Luce
Kha Nguyen
Chloe Niebla
Thi Xuan Ca Nguyen
Hanin Sharif
Jarod Venegas
Nhi Vu
Vivian Vu
Brunilda "Bruni" Cronk Memorial Scholarship
Marlen Torres
Burton Family Scholarship
Samantha Lara Cortes
Madrid Ruiz
C.A.R.E. Scholarship
Maribel Espinoza
Alisha Gamble
Brenda Jimenez
Carissa Luevano
Lydia Nationalista
Trang Nguyen
California Community Colleges Scholarship Endowment – OSHER Scholarship
Mark Abdalla
Alexis Defries Anderson
Jonathan Barajas
Francesca Caponi
Nathaniel Delmont
Hieu Do
Samantha Estrada
Jessica Faber
Hilal Farooqi
Carlye Favella
Chelsie Garcia
Maria Garduno
Aurora Hoang
Vy Hoang
Angel Huynh
Nga Mai
Brittany Melton
Tram Ngo
Thuong Nguyen
Vu Nguyen
Caitlin O Brien
Anthony Paulino
Tai Nguyen Phuoc
Shiloh Rivers
Alyssa Rodriguez
Tori Rowland
Cory Shavarebi-Carlton
Uyen Tran
Tieu Tsan
Alyssa Williams
Carolyn Taft Face Memorial Scholarship
Madalyn Nobles
Chip Marchbank Recognition Award
Cornelio Beralas
Clara Barton Chapter, NSDAR Scholarship
Ana Venegas Hernandez
Thu Minh Anh Huynh
Community Festival Scholarship
Allison Bebout
Cora Mora Moreno Memorial Cosmetology Scholarship
Daisy Delgado
Juan Mendoza
Costa Mesa Women's Club Scholarship
Tegan Hopp
Cupadicot Award
Elena Mosham
Dan Wiseman Memorial Scholarship
Cornelio Beralas
Omar Galvan
Dawn Hammond Memorial Scholarship
Thanh Vi Le
Debra Irizarry & Mark R. Olson Memorial Scholarship
Makenna Deleu
Leon Ho
Diana Carmel Lone Cypress Award
Jessica Clinard-Allmen
Dominic Scolaro Memorial Scholarship
Misty Nguyen
Don & Doris Randol Memorial Scholarship
Mariel Riat
Don Rowe Memorial Scholarship
Nathaniel Espinoza
Ariel Mejia
Dr. Americo Lopez-Rodriguez Scholarship
Salvador Cerda-Rodriguez
Jarod Venegas
Dr. Fred J. Owens Memorial Scholarship
Cornelio Beralas
Melissa Bergesen
Dr. James Thornton Scholarship
Glen Makepeace
Dr. Kenneth D. Yglesias Scholarship
Elena Mosham
Dr. Max Lechtman Nursing Student Memorial Scholarship
Cha Soon Park
Dr. Philip Westin Scholarship
Piper Janin Simpson
Dr. William and Joan Stanley Memorial Scholarship
Oanh Nguyen
Dr. William Carpenter Scholarship
Matija Jancic
Ebell Club of Newport Beach Scholarship
Benjaminn Grunbaum
Anthony Moval
Clarisa Sales
Edison International
Hung Bien
Austin Claude
Tien Duong
Sky Jackson
Brian Jones
Mai Luu
Jesus Medina
Elena Mosham
Le Ngo
Anh P. Nguyen
Bao Khanh Nguyen
Duc Minh Nguyet Nguyen
Thai Quang Nguyen
Thinh Nguyen
Trong Pham
Katrina Stanjevich
Minh Tuong Truong
Tho Truong
Hoanh Vo
Edith Marie Bell Strother Scholarship
Mandy Pennington
Daniel Rodriguez
Edward J. Mulder (HAIA) and Pop Mulder Memorial Scholarship
Nathaniel Wight
Elaine Layne BSN Scholarship
Caitlin Conzachi
Mercedes Nguyen
Elizabeth Spencer Memorial Tutorial Scholarship
Thi Minh Phuc Pham
Emancipated Foster Youth Scholarship
Angel Huynh
Madison Quintero
Phu Tran
ENCORE: Students Preparing for 2nd Career Scholarship
Brooke Chesser
Alexis Defries Anderson
Ariana De La Cruz
Alisha Gamble
Alanna Goss
Juan Hernandez
Manuel Leon
Tuan Nguyen
Christine Ramos
Stephanie Reese
Tammi Reid
Shiloh Rivers
English Emeritus Faculty Scholarship
Jacqueline Vo
Ernie Moersch Memorial Scholarship
Cornelio Beralas
Ariel Mejia
Extended Opportunity Program & Services (EOP&S) Scholarship
Erin Joy Araneta
Naomi Guillemin
Tasia Kester
Jose Roldan
Fred Garcia Scholarship
Vivian Vargas
Fred Hoover Memorial Scholarship
Eric Romo
FV Chamber of Commerce Scholarship
Mitchell Merhoff
Galles Family Scholarship
Phuong Le
Elena Mosham
Thinh Duc Nguyen
Garden Grove Hospital Guild Scholarship
Nghi Luong
Gary and Nancy Fong Scholarship
Brenda Jimenez
Gary L. Parsons Memorial Scholarship
Henry Ha
Erica Hern
Leonardo Marquina Popoca
Gladys Lavoie Scholarship
Adrian Montes
Graphic Arts Faculty and Gerald Volpe Memorial Scholarship
Jose Nunez Novoa
Grimes Family Scholarship
Anh P. Nguyen
Truc Nguyen
GWC Foundation and Robert Rhomberg
Memorial Nursing Scholarship
Summer Lopez
GWC Foundation Stephanie Dumont Memorial
International Student Scholarship
Alexa Mross
GWC General Scholarship
Robyn Dick
Rocio Flores
Naomi Guillemin
Brittany Rochow
Harbor Beach Division 77 Scholarship Foundation of the California Retired Teachers Association Award
Katherine Cormier
Hens & Chickens Quilt Fellowship Scholarship
Francisco Edeza
Tasia Kester
Herman R. Tate Memorial Scholarship
Hailey Bonillas
Shawn Boulton
Jessica Clinard-Allmen
Thanh Thuy Doan
Hope Miller
Jessica Vu
Hornbuckle Family Scholarship
Hannah Dubord-Sailor
Huntington Beach Company Scholarship
Nghi Luong
Independent Latino Student Association Scholarship (I.L.S.A.)
Xelha Meneses
Instructional Planning Team Scholarship
Ryan Limbach
Jack P. Lipton General Counsel Scholarship
David Andrews
Kyle Langdon-Weyrich
James Jordan Nursing Student Scholarship
Avo Avdoian
Kassie Balderston
Cathy Bui
Francesca Caponi
Karen Choi
Sierra Cobo
Brianna Demes
Vincent Dong
Jeffrey Dyess
Chelsie Garcia
Juliana Giraldo
Katrina Gurzi
Lina Hua
Helen Huynh
Katelyn Kampa
Tae Kang
Annie Khuu
Sydney Kohlenberger
Marianne Kovar
Noah LaBare
Gina Lee
Pauline Long
Mackenzie Lynk
Suwaine Manning
Mariah Menier
Hai Tran Nguyen
Jayme Owens
Tra Pham
Alexandra Polley
Stephanie Reese
Robert Santiago
Jessica Santos
Kristina Sather
Angela Seguin
Miles Shepard
Chelsea Soriano-Lopez
Kevin Tham
Morgan Thompson
Margaret Vargas
Kevin Vasquez
Innocent Wasike
Leslie Weaver
Jordan Wu
Eden Yimam
James Pierce Memorial Scholarship
John Cuviello
Jane Berlinger Memorial Scholarship
Jasmine Tapia
Jane Odland Memorial Scholarship
Thinh Duc Nguyen
Trong Pham
Jerry H. McGaugh Scholarship
Thi Minh Phuc Pham
John and Sheila Wordes Scholarship
Alex Tran
John Warner Hopkins, Ron Quigley/O'Neill Sportswear and Mary L. Wise Memorial Fine Arts Scholarship
Alvin Baui
Judith Valles Scholarship
Mya Sotelo
Judy and Ron Shenkman Scholarship
Alisha Gamble
Judy Elmore and Family Scholarship
Madeleine Cale
Jessica Camacho
Vanessa Van Steenbergen
Spencer Tybur
Thuy Quynh Nhu Vo
Karen Glines Memorial Tutorial Scholarship
Tayler Moreno
Kathryn M. Thurmond Memorial Scholarship
Kevin Jaimes
Kathy and Richard Nguyen Scholarship
Truc Nguyen
Kris and Joe Lightman Business Scholarship
Manuel Leon
Las Damas Ruth Chisler Memorial Scholarship
Taylor Aponte
Leisure World Woman's Club of Seal Beach Nursing Scholarship
Ashley Carrera
Caitlin Casey
Little Saigon Scholarship
My Linh Tran
Lloyd Hamilton Campus Life Award
Erin Joy Araneta
Lorraine Prinsky Social Science Scholarship
Duc Minh Nguyet Nguyen
Lowell E. Karre Memorial Scholarship
Phuong Nguyen
Van Nguyen
Mailing Pros Inc
Adrian Montes
Marjorie Shane Memorial Scholarship
Tammi Reid
Mark Craig Cheerful Service Scholarship
Alaa Shehadeh
Mark Johnson, Homer Roughton and Bruce Williams
Memorial English Scholarship
Jacqueline Vo
Mary Ross Bryan Memorial Scholarship
Tammi Reid
Mildred Anderson Memorial Scholarship
Juan Orosco
Nicholas G. Fosco Memorial Scholarship
Jeniffer Garcia
Norma Brandel Gibbs Scholarship
Irene Stull Agnew
Norma Nisco Memorial Nursing Scholarship
Tegan Hopp
Flavia Hwang
Cha Soon Park
Courtney Serrano-Hinson
Norman Karkut Memorial Scholarship
Eileen Dong Vu
Orange County Fine Arts: An Association of Artists Scholarship
Anthony De Leon
Orsini Family Scholarship
Maria Gomez
Patrons Arts Scholarship
Andrew Tran
Patrons Cheryl Tittle Veterans Scholarship
Manuel Leon
Patrons Community Volunteer Service Scholarship
Abigail Anthony
Patrons Cosmetology Scholarship
Ngoc Tran
Patrons Emancipated Foster Youth Scholarship
Angel Huynh
Madison Quintero
Patrons Founders Scholarship
Wesley Northern
Lauren Thayer
Patrons Monarch Scholarship
Leah Fudim
Joy Tran
Patrons Past Presidents Scholarship
Sarah Kwok
Tina Ngo
Patrons Theater Arts Scholarship
Norris Vo
Patrons Veterans Scholarship
Madison Moore
Peace Studies Fellowship
Robert Molina
Pete and Helen Shaffer Memorial Scholarship
Jennifer Dempsey
Courtney Serrano-Hinson
Post 9-11 Combat Veterans Scholarship
Leroy Camacho
Profesóra Cronk Memorial Scholarship
Isabel Mendoza
Puente Program Phase 2 Scholarship
Maria Fuentes Perez
Hailee Runyan
Puente Program Phase 3 Scholarship
Ricardo Esperanza
Leonardo Marquina Popoca
Mirella Castillo Santana
Jasmine Tapia
Vivian Vargas
R. Dudley Boyce and Mary T. Boyce Memorial Scholarship
Timmy Dau
Dominic Tran
Hailee Runyan
R. Dudley Boyce Outstanding Student Award
Erin Joy Araneta
Ralston Scholarship
Rachael Martinez
ReYCarr Mathematics Scholarship
Abigail Anthony
Tayler Moreno
Bao Khanh Nguyen
Rhonda Amber Gentry Memorial Scholarship
Tommy Bang
Sydney Roberts
Robert J. Cassens Memorial Music Scholarship
Lorenzo Vasquez
Robert J. McCausland, Norman E. Rich, and Michael & Teresa Smith-Meighan Memorial Music Scholarship
Alan Criss
Robin Lynne Bennett Memorial Scholarship
Claudia Kovesdi
Roscoe E. Lancaster Memorial Scholarship
Thi Minh Phuc Pham
Sherry Griswold Memorial Scholarship
Nhu Dinh
Tan Duong
Shirley L. Haas, Ed.D., A.I.F.D. Memorial Scholarship
Man Tran
Siracusa Family Scholarship
Spencer Blake
Lacey Escarro
Morgan Kepler-Telling
Huu Thuy Toan Nguyen
Natalina Nguyen
Catherine Osburn
Madison Wilkerson
Smith/Krape Memorial Scholarship
Jocelyn Hoyos
Henry Pham-Tran
Sarah Valentine
Chuong Vu
Social Sciences Department Scholarship
Francisco Edeza
Soroptimist International of Huntington Beach
Jean Turner Memorial Scholarship
Melissa Miller
Speech/Communication and June Roughton Hopkins
Communication Scholarship
Hailey Bonillas
Stacked Restaurants Scholarship
Vinh Quang Tran
Stacy Bryan Student Director Scholarship
Madeleine Lyon
Steve Barnes Scholarship
Xavier Grayson
Angel Huynh
Javanna Jesson
Study Abroad Scholarship
Carol Gross
Tennyson & Booth Nursing Scholarship
Phu Tran
The Daniel J. Corfield Memorial Scholarship
Thomas Demartino
The Edward H Cummings Family Endowment
Robyn Dick
Theater Arts Scholarship
Devlynn Singley
Tony Dempsey Memorial Scholarship
Colleen Rude–Hulbert
Venner Farley Excellence in Nursing Scholarship
Brandon Burris
VFW Huntington Beach Memorial Post #11548 Scholarship
Kevin Jaimes
Vida Greer-Martin "Life Is Good" Memorial Scholarship
Erin Joy Araneta
Vida Greer-Martin Outstanding Student Writer Scholarship
Elena Mosham
Vietnamese Catholic Student Association Scholarship
Thao Nguyen Nguyen
Vietnamese Student Association Award and
Thomas M. Kane Memorial Scholarship
Anh P. Nguyen
Thi Minh Phuc Pham
Virginia Alleman Memorial Scholarship
Jacqueline Guerrero
Waltmar Foundation Scholarship
Leroy Camacho
Hunter Howe
Danielle Mar
Christina Nguyen
John Ojelabi
Alaa Shehadeh
William Bumm Memorial Scholarship
Cambria Greer
Wm. "Boyed" Hudnall Memorial Scholarship
Christine Ramos
Woman's Club of Huntington Beach Nursing Scholarship
Emily Acosta
Raul Damian
Jennifer Dempsey
Leslie Laine
Thao Le
Amber McConnell
Magaly Ruiz-Hernandez
Woman's Club of Seal Beach Scholarship
Robin Temple
PLEASE READ: Scholarship recipients will be sent a personalized email with instructions for the Scholarship and Awards Night. Please plan on attending this event on Tuesday, May 7 at 6:30 p.m. in the Golden West College Gymnasium.