California State University System (CSU)
Transfer Center
The CSU is the largest system of four-year public higher education in the United States.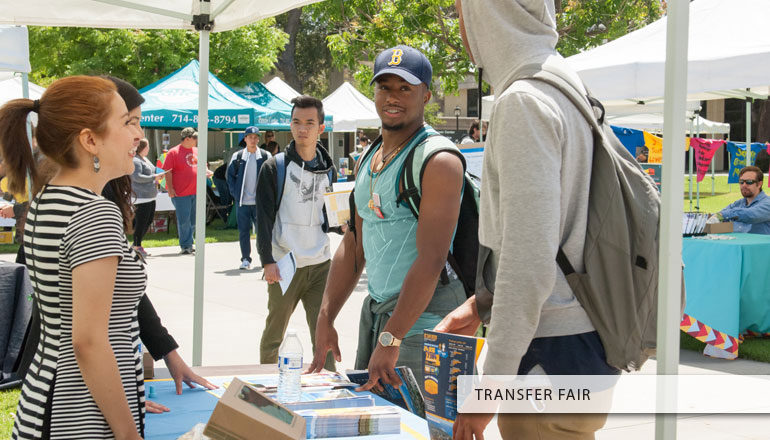 The CSU is the largest system of four-year public higher education in the United States.
With 23 campuses statewide, it provides a variety of choices for transfer students.  The CSU has historically played a critical role in preparing students to enter the job market.  Offering degrees in business, engineering, health, education, nursing, and public administration, the CSU offers more than 60 percent of all degrees in these fields.  Nearly half of all bachelor's degrees are awarded by the CSU.
Campuses:  See below…
Degrees Offered:
Baccalaureate (B.A., B.S.)
Master's (M.A., M.S., M.B.A.)
Doctoral  (Ed.D. only); Select Campuses only;  Ph.D jointly conferred with the UC system (Chico, San Diego, Los Angeles, Long Beach, and San Francisco).
Credentials and Certificates
ACADEMIC CALENDAR: 
Application deadlines: October 1 – November 30 for Fall term entry;  August 1-30 for Spring term entry.  Not all campuses accept applications for spring term, please check with the individual campus.
California State University System Campuses
Ranging from Humboldt near the Oregon border to San Diego on the Mexican border, the twenty-three campuses of the California State University, with an enrollment exceeding 300,000 students and more than 1,600-degree programs, constitute one of the largest systems of higher education in the world. CSU Campuses are located in:
How to Transfer to the CSU
1. Start completing "The Golden Four" (GE areas below) as soon as you can.  Most CSU campuses require students to complete these courses by the end of Spring term prior to the Fall Admission and by the end of the Summer term prior to the Spring Admission.
a. Oral Communication
b. English Composition
c. Critical Thinking
d. Mathematics / Quantitative Reasoning
2. Complete 60 transferable semester units with a minimum 2.0 GPA.  The GPA for admission can be significantly higher because of the major, campus, and/or applicant pool.
3. Complete coursework in the major along with your General Education (GE) requirements.  To satisfy GE, you have two choices: IGETC or CSU GE.  Talk to a counselor to determine which option is the best.
4. For AA-T/AS-T Degree, please talk to a counselor to see if you are eligible. Some CSU will give students an additional .1 bump in the transferable GPA.  Please see individual campus for ADT benefit.
5. Apply on time! All CSU's begin accepting applications in October and November prior to the following Fall admission.  Some CSU's still accept applications after the filing period.  But the sooner you apply, the better your chances are for admission.
6. Most CSU campuses are now highly impacted.  In order to be admitted, it is recommended that students have a competitive/higher GPA, General Education and the Major Prep completed prior to transferring.
CAUTION:  Check on www.calstate.edu for a list of "impacted" majors.  "Impacted" usually means you need to apply early, complete coursework in the major, and have a strong GPA.
On-line application (www.calstate.edu/apply)

| | |
| --- | --- |
| Application Term | Application 1st Accepted |
| Fall Semester | October 1 – November 30 of the preceding year |
| Spring Semester | August 1- 31 of the preceding year |
Note:  Not all campuses are open for Winter/Spring term, please check with each individual campus for more information.
GWC Certificate of Achievement in CSU General Education BREADTH
This Certificate of Achievement is designed for students who intend to transfer to a California State University campus.
Students who complete this certificate will meet all lower division general education requirements for CSU.
Students must complete a minimum of 9 additional upper division general education units after transfer. Courses on this list are approved for a specific academic year. A course can be used only if it is on the list when it is taken. Every effort has been made to assure the accuracy of this list at the time of publication; however, additions or deletions sometimes occur during the year. Students are encouraged to see a GWC counselor and check the ASSIST website (www.assist.org) regularly for the most current information about approved courses. ASSIST is the official repository of course articulation for California's public colleges and universities.
To receive this certificate, a minimum of 12 residency units must be completed at GWC.
Students must complete a minimum of 39 units of coursework from Areas A through E including the specific requirements listed for each Area. A grade of "C" or better is required for all courses in Area A, the mathematics course in Area B4 and at least 30 of the units completed in Areas A through E. Grades of "credit/pass" can be used if equivalent to a "C" grade. One course may not be used to satisfy more than one general education requirement.
Note: Honors course credit limitation – Duplicate credit will not be awarded for both the honors and regular versions of a course. Credit will only be awarded for the first course completed with a grade of "C" or better.
Note: Students who are awarded this Certificate of Achievement must also request CSU GE Breadth certification at the Admissions and Records Office when sending their final transcript to the four-year school.
Note: This list was current at the time of printing. See a GWC counselor for the most up to date transfer information.
Download the Certificate of Achievement in CSU General Education Breadth 2019-20 [PDF]
CSU Admissions Checklist
Review your academic records by meeting with a GWC counselor and visiting university representatives in the Transfer Center to determine your eligibility, competitiveness as a transfer applicant, and application filing dates for admission.
Research the CSU campus and major to determine selectivity. If your major is highly selective, find out what the admissions requirements are and when they should be completed, i.e. grade point average, major prep courses and any other supplemental materials such as portfolios, interviews or letters of recommendation.
Attend an Admissions and Applications Workshop. The Transfer Center offers CSU Admissions and Applications Workshops in October and November.
Do not delay taking the "Golden Four" courses required for admissions: transferable math, English composition, critical thinking and communications. Some CSU campuses require these courses to be completed by the previous Fall Term if applying for Fall admission.
Complete 60 transferable units with a minimum 2.0 GPA (2.40 for non-residents). The GPA could be significantly higher based on the campus and major.
Complete your General Education (GE) requirements, usually by completing the CSU General Education pattern.
Take courses for your major. You will be more prepared as you enter the university. See transfer information available on www.assist.org.
Apply on time, apply to multiple campuses and observe all of the important application filing deadlines.
| | |
| --- | --- |
| Term of Transfer | Initial Filing Period |
| Fall | October 1 – November 30 of preceding year |
| *Spring | August 1-31 of preceding year |
*Note: Some CSU campuses do not accept applications in the spring. Apply online at www.calstate.edu/apply
**Note: When requesting GWC transcripts to be sent to the CSU, make sure to select G.E. Certification on your transcript
Completing the Cal State Application
(For assistance with the online application, below are guides you can refer to or contact the Transfer Center for assistance)
1. Click Apply> Select term applying> Sign-in or create an account
2. Complete Your Profile
a. Identify your degree goal:
• Transferring with ADT (AS-T/AS-T) – Select the CCC campus and major
• Transferring from a California Community College – select less than 60 units (lower division transfer) or selection greater than 60 units (upper division transfer).
b. Returning students
• If you previously attended a CSU, left and are now applying to return to the same CSU campus to complete your degree select "Yes". The application will then prompt you to select a campus and provide your campus ID. If you are not returning to the same campus, select "No".
c. US Military Status – Select the value that corresponds with your military status
d. International Applicant – Identify whether or not you require an F1 or J1 Visa to study in the United States
e. Select "save changes"
f. You can view and update My Profile and Extended Profile before submitting your application. Once an application is submitted, the Extended Profile cannot be changed.
3. Select Programs
a. The application begins with selecting the program(s) to which you want to apply. You cannot proceed into the application until at least one program is selected. Additional programs can be added or removed later, prior to the final application submission.
b. After all programs are selected click on "I am Done, Review my Selections".
c. Review Your Program Selections – Verify the programs you wish to apply to are listed. Select "Continue To My Application".
4. Complete the four quadrants of the application
The first three quadrants are required for all programs. The first three quadrants are required for all programs. The fourth quadrant, Program Materials, will appear completed if no questions within the quadrant are required. It may include information specific to programs selected so applicants should read what is listed under the Program Materials for the programs selected.
a) Personal Information
Citizenship and Residency Information
Financial and Parental Information
Parent/Guardian Information (Undergraduate Only)
b) Academic History – This section is where you input the high schools and colleges you attended, as well as any coursework completed/In-progress/Planned. Additionally, you can provide information about tests you have taken or plan to take.
High Schools Attended (Undergraduate Only)
General Education – Golden 4 (Transfer Only)
AP (Advanced Placement) (Undergraduate Only)
IB (International Baccalaureate) (Undergraduate Only)
CLEP (College Level Examination Program) (Undergraduate Only)
Standardized Tests (SAT/ACT- for HS Freshman only)
c) Supporting Information – This section is used to collect supporting application information, such as experiences, achievements, and certifications.
Associate Degree for Transfer (ADT Transfer Only)
Educational Opportunity Program (EOP)
Experiences (Graduate and Credential Only)
d) Program Materials – If the specific programs you are applying to have any additional application requirements, use this section to provide the requested information (unofficial transcript(s) or prerequisites). You can also view important information about each program you are applying to, including deadline requirements.
5. Fee Waiver
a. Fee waivers are automatically generated based on the information provided in the application. You must fully complete the application before the fee waiver eligibility is determined. Check the Cal State Apply Fee Waivers section before submitting to see if you qualify for the available fee waivers. If you are eligible for an application fee waiver, you will see a Check My Fee Waivers link on the Submit Application page. Click Check My Fee Waivers for more information. If you do not see the link, you are not eligible for a fee waiver.
6. Submit Payment
a. Application is $70 per CSU campus.  When you are ready to submit your application, go to the Submit Application tab and click Submit. Do not submit any payments before submitting your application. Payments can only be made in the application via PayPal, pre-paid credit or debit card, or standard debit or credit card. We accept Visa, Mastercard, American Express, and Discover. Credit card payments cannot be made over the phone.  If you choose to pay via PayPal, once you complete the transaction on PayPal, you must return to your Cal State Apply application and click Submit. Note that you can add money to your PayPal account at select retail locations. Visit the PayPal website for locations and information. Once you submit your application and payment, click View Payment History for each program on the Submit Application page to confirm your payment's receipt.
7. Submitting and Monitoring Your Cal State Application
a. Submitting and Completing Your Cal State Apply Application
b. Updating Your Cal State Apply Application
c. Checking Your Cal State Apply Application Status
Note: After you submit your application, please check with each individual university to which you applied to see when you need to submit transcripts. Make sure to request your final transcript with GE certification! Please contact your counselor or the Transfer Center at (714) 895-8794 or (714) 895-8348 if you have any questions or need help with the application.