Transfer Resources
Transfer Center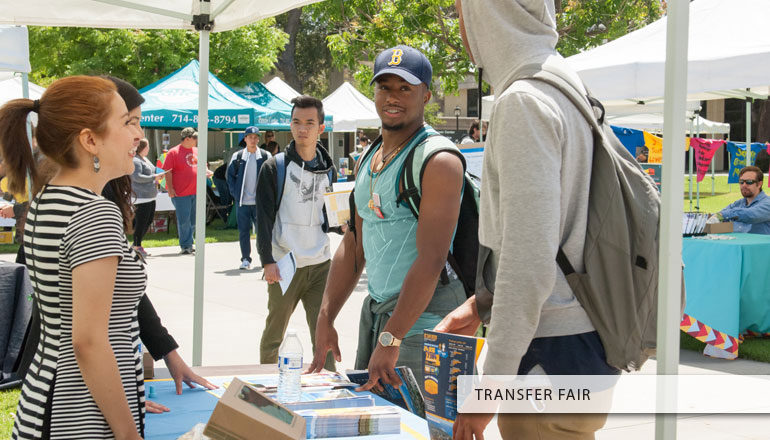 The Counseling Department is dedicated to assisting students to achieve success in their academic, career, and life goals in an inclusive environment that embraces the diversity of our students and community.  Our professionally trained counselors are available to assist you with clarifying career and educational goals, educational planning and course selection, university transfer, and personal counseling.
How to Calculate Your Grade Point Average (GPA)
Computing Your Grade Point Average (GPA)
Computing your GPA – THE STEPS
See table below for sample data.
Step 1: Find the grade point value for each course taken (some transcripts already take this step for you). Multiply the number of units/credits of a course by the value of each grade (see values below).
Example:
ENGL 110 3 units x B(3) = 9
Step 2: Add together the total grade points received for each course to determine grade point total for all colleges. (Amount from chart below = 49)
Step 3: Add together the units/credits Attempted. (Amount from chart below = 16)
Step 4: Finally, divide (÷) total grade points by total units/credits attempted. The result will be your grade point average.
Step 2 ÷ Step 3 = G.P.A.
Example: 49 ÷ 16 = G.P.A.

| | | | | |
| --- | --- | --- | --- | --- |
| Course | Units/Credits Attempted | Grade Earned | Units Completed | Grade Points |
| Spanish 185 | 5 | A (4) | 5 | 20.0 |
| Art 100 | 3 | CR (0) | 3 | — |
| English 110 | 3 | B (3) | 3 | 9.0 |
| Geology 100 | 4 | C (2) | 4 | 8.0 |
| Math 160 | 4 | B (3) | 4 | 12.0 |
| Totals: | 16 | | 19 | 49.0 |
Grade Point Value:
A = 4 grade points
B = 3 grade points
C = 2 grade points
D = 1 grade point
F = 0 grade points
The following grades are not part of the GPA computation:
CR = Credit – 0 grade points, no units attempted, but counts as completed
NC = No Credit – 0 grade points, no units attempted, no units completed
W = Withdrawal – 0 grade points, no units attempted, no units completed
I = Incomplete – 0 grade points, no units attempted
IP = In Progress – 0 grade points, no units attempted
NG = Non Graded – 0 grade points
RD = Report Delayed – 0 grade points, no units attempted