Certificate of Achievement Law Enforcement Option
Criminal Justice Training Center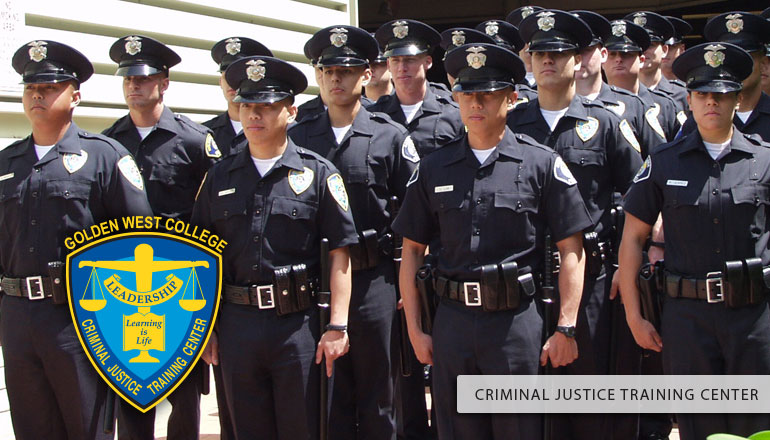 This curriculum was developed with an advisory committee comprised of Criminal Justice administrators. Its purpose is to provide basic fundamentals for entry into any type of Criminal Justice agency. The curriculum leads to the Associate in Arts degree and/or a Certificate of Achievement in Criminal Justice.
It is suggested that courses be taken in the order they are listed. However, courses may be taken in any order provided prerequisites have been met.
Required Courses
Criminal Justice G064 Police Academy Program
(P.O.S.T. Regular Basic Course)
Criminal Justice G065 Police Academy—Lifetime Health & Fitness
Criminal Justice G090 Specialized Investigator Program
(P.O.S.T. Specialized Investigators' Basic Course)
Criminal Justice G098 Report Writing for Specialized Investigators' Basic Course
Completion of the eight Criminal Justice courses listed below:
Semester 1 Units
Criminal Justice G140 Introduction to Criminal Justice 3 Units
Criminal Justice G141 Criminal Law I 3 Units
Semester 2
Criminal Justice G128 Criminal Procedure & Evidence 3 Units (Spring Only)
Semester 3
Criminal Justice G139 EMS – First Aid/CPR 3 Units (Spring Only)
Criminal Justice G146 Police Report Writing 3 Units
Semester 4
Criminal Justice G130 Character Development 3 Units
Criminal Justice G137 Special Issues in Law Enforcement 3 Units
Total Units 21
RECOMMENDED ELECTIVES: The following courses are specifically selected to enhance the Law Enforcement Option curriculum. Students may wish to select some of these courses in order to complete the 60 units required for an Associate in Arts degree.
Criminal Justice G110 Criminal Investigation
Criminal Justice G115 Organized Crime and Terrorism
Criminal Justice G123 Juvenile Law
Criminal Justice G150 Introduction to Corrections
Criminal Justice G151 Aspects of Corrections
Criminal Justice G152 Probation and Corrections: Case Planning and Supervision
Criminal Justice G220 Forensic Accounting, Introduction
Federal Gainful Employment Report
Use the link below to view Golden West College's gainful employment reports. These reports provide you, the student, with important information regarding the costs, benefits and potential employment options of our certificate programs. Federal Gainful Employment Reports