Specialized Investigators' Basic Course (SIBC)
Criminal Justice Training Center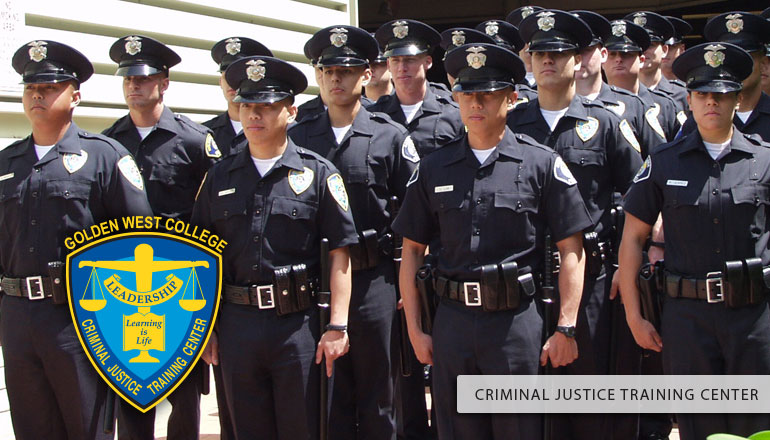 Fall 2019 Dates: August 11, 2019 – December 6, 2019
Location: Golden West College
Criminal Justice Training Center (CJTC)
15744 Golden West Street
Huntington Beach, CA 92647
Contact Person: Nicole Riegel
nriegel@gwc.cccd.edu
SIBC Coordinator
714-892-7711 Ext.52477
CJTC Main Office: 714-895-8369
General Information and Registration:
In collaboration with the California Commission on Peace Officer Standards and Training (POST), Golden West College (GWC) is pleased to announce a Specialized Investigators' Basic Course (SIBC) is being planned for Fall 2019. The course is full time, approximately 686 hours of instruction for 17 weeks and complies with CA Penal Code sections 13510.5 and 832.25.
At this time, the "Contract Education" model adopted for recent classes will not be utilized; therefore, agencies are not required to enter into a contract with the District and the fees have been adjusted to reflect this change.  Students with a passing grade will receive 24.5 units of college credit.  A POST Certificate will only be awarded upon successful completion of all requirements established by POST standards for the SIBC and GWC course requirements.
The registration cost for each participant is $1,847.00 and parking fees.  Registration includes tuition, material fees, range fees, health fee and a college service fee. Additional costs for equipment, uniforms and miscellaneous fees are spelled out in the following sections of this announcement. These additional costs are also the responsibility of the agency.  Please see attached documents for additional information.
Download the PDF Version of the Letter with all information [PDF]
SIBC Self Sponsor Requirements [PDF]
For information, please contact the SIBC office: nriegel@gwc.cccd.edu 714-892-7711 ext 52477