Peace Studies Fellowship
Peace Studies Center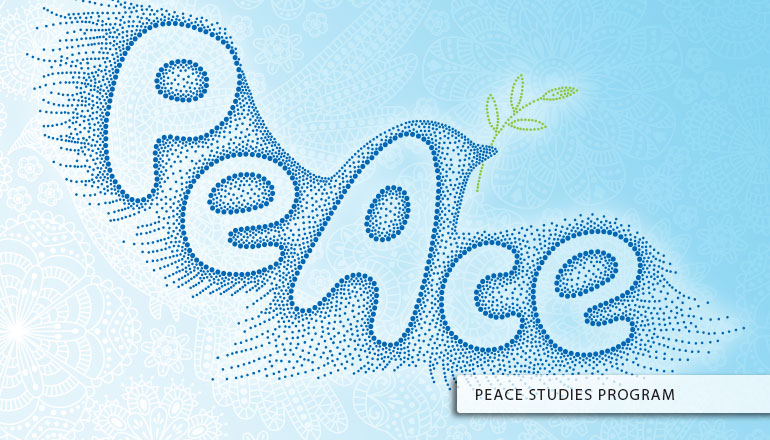 The center for Peace, Justice & Sustainability is offering three fellowships in the areas Compassion In Action, Sustainability Design and Social Justice Innovation. These fellowships are designed to provide a unique opportunity for GWC students to expand their intellectual capacities, to learn to design with empathy, to pursue breakthrough solutions to societal problems, and to create movements on campus that transform both the campus environment and the surrounding community. Mentorship will play a pivotal role, as each student recipient will be paired with two or more mentors (a faculty expert and a community member) with the capacity to help the student bring his or her ideas to fruition over a period of 8-10 months. In offering these fellowships, the Center for Peace, Justice & Sustainability is seeking to give voice to student ideas and projects that foster awareness, discussion, innovation, implementation, possibly publication, and opportunities for employment and volunteerism.
Description of the Fellowships:
COMPASSION IN ACTION Fellowship
Awarded for a service-learning project addressing human, animal, or ecological rights, and dedicated to transforming destructive conflict into productive dialogue, with the end goal being to create compassionate communities working toward the evolution of our civilization.
SUSTAINABLE DESIGN Fellowship
Awarded for a project that seeks to restore the balance between man and nature by engaging science and technology in order to redesign economic or social systems to be environmentally sustainable.
SOCIAL JUSTICE INNOVATION Fellowship
Awarded for a project employing the radical lens of compassion to envision and enact innovative, peace-building, and restorative solutions to the most pressing social justice issues such as inequality, inequity, and poverty.
For more information and how to apply, please contact Fran Faraz: ffarazdaghi@gwc.cccd.edu or Valerie Venegas: vvenegas@gwc.cccd.edu
If you like to contribute to these fellowships, please contact Fran Faraz, or Valerie Venegas for more information. Your generous contributions will allow us to bring this extraordinary experience to our students, expand their views and inspire them to take action on critical matters.
Checks can be payable to: Golden West College Foundation (Please indicate Peace Studies Fellowship)
Golden West College Foundation Office
15744 Golden West St.
Huntington Beach, Ca 92647