Birds of the Garden
California Native Garden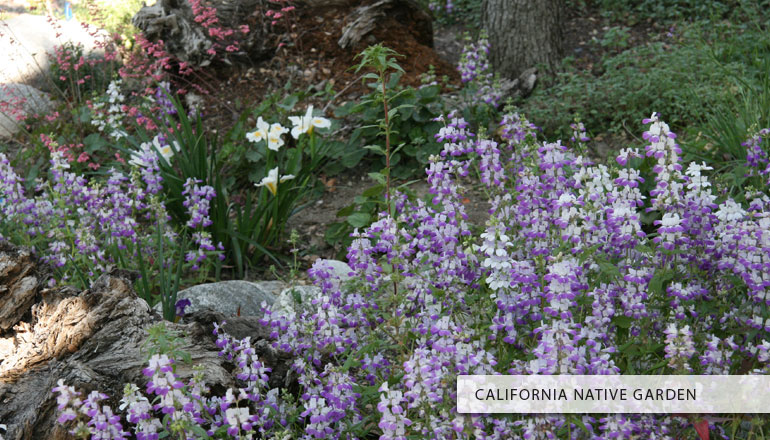 GWC Native Garden Bird Sightings
Perhaps this modest list will appeal to those interested in our local populations of birds. The garden is less than an acre and half and so does not have the quantity or diversity of birds found throughout the county. It is a small slice of what is around us.
Still it is interesting to see and hear birds in various activities throughout the year. This list is comprised of birds found within the Gardens boundaries, if there is a flyover noted it will be followed by (FO). Sightings and recording of these birds is made principally by Garden volunteer, Bob Hogan. Volunteer days are Tuesdays and Thursday mornings so of course there are many birds not seen by us.
This simple list does not record frequency of returns, how much time each species spends in the garden, or their activities in the Garden, (feeding, nesting, etc).
Townsend's Warbler in the Garden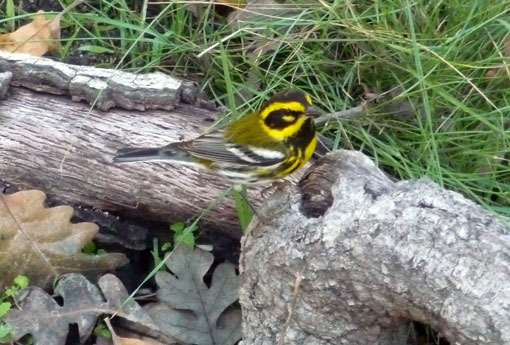 2012 Bird Sighting List
January
Annas Hummingbird
Allens Hummingbird
Bushtit
Huttons Vireo
Ruby-crowned Kinglet
Yellow-rumped Warbler
Orange-crowned Warbler
Townsends Warbler
Red-shouldered Hawk
American Crow
Black Phoebe
Hermit Thrush
House Wren
Lesser Goldfinch
Mourning Dove
Dark-eyed Junco
White-crowned Sparrow
Downy Woodpecker
Bewicks Wren
Canadian Geese (FO)
Ruby-crowned Kinglet
February
Bushtit
Annas Hummingbird
Allens Hummingbird
Huttons Vireo
Ruby-crowned Kinglet
Hermit Thrush
Lesser Goldfinch
Yellow-rumped Warbler
Orange-crowned Warbler
Red-shouldered Hawk
American Crow
Black Phoebe
Dark-eyed Junco
American Goldfinch
White-crowned Sparrow
March
Mallard
House wren
Huttons Vireo
Orange-crowned Warbler
American Goldfinch
White-crowned sparrow
Lesser Goldfinch
Bushtit
Annas Hummingbird
Allens Hummingbird
Yellow-rumped Warbler
Coopers Hawk
Ruby-crowned Kinglet
Red-shouldered Hawk
American Crow
Dark-eyed Junco
Western Bluebird
Wilsons Warbler
Nuttall's Woodpecker
April
American Crow
American Goldfinch
Annas Hummingbird
Mourning Dove
Lesser Goldfinch
Allens Hummingbird
Bushtit
Western Tanager (Male)
Hermit Warbler
House Finch
House Wren
Nashville Warbler
May
Lesser Goldfinch
American Crow
Black Phoebe
House Wren
American Goldfinch
Annas Hummingbird
Allens Hummingbird
Bushtit
Mourning Dove
House Finch
House Wren
Nashville Warbler
Wilsons Warbler
Western Tanager
MacGillivray's Warbler
Red-shouldered Hawk
June
Mourning Dove
Annas Hummingbird
Allans Hummingbird
Turkey Vulture (FO)
House Wren
Bushtit
American Crow
Black Phoebe
Lesser Goldfinch
House Sparrow
House Finch
Barn Swallow (FO)
Bullocks Oriole
July
Annas Hummingbird
Allens Hummingbird
House Wren
Bushtit
American Crow
Black Phoebe
Lesser Goldfinch
House Sparrow
House Finch
Nuttalls Woodpecker
Red-shouldered Hawk
Hooded Oriole
Mourning Cove
Band-tailed Pigeon
August
Annas Hummingbird
Allens Hummingbird
House Wren
Mourning Dove
Bushtit
American Crow
Black Phoebe
Lesser Goldfinch
House Sparrow
House Finch
Red-shouldered Hawk
House Wren
Coopers Hawk
September
California Quail
Red-breasted Nuthatch
Annas Hummingbird
Allens Hummingbird
Black Phoebe
Red-shouldered Hawk
Bushtit
House Finch
Nutmeg Mannikin
Western Tanager
House Wren
Huttons Vireo
White-crowned Sparrow
California Towhee
American Crow
Townsends Warbler
Ruby-crowned Kinglet
Orange-crowned Warbler
Yellow-rumped Warbler
Western Scrub Jay
Northern Mockingbird
Downy Woodpecker
Nuttalls Woodpecker
Hermit Thrush
Pacific Slope Flycatcher
Wilsons Warbler
October
California Quail
Red-breasted Nuthatch
Annas Hummingbird
Allens Hummingbird
Black Phoebe
Red-shouldered Hawk
Bushtit
House Finch
Nutmeg Mannikin
Western Tanager
House Wren
Huttons Vireo
White-crowned Sparrow
California Towhee
American Crow
Townsends Warbler
Ruby-crowned Kinglet
Orange-crowned Warbler
Yellow-rumped Warbler
Western Scrub Jay
Northern Mockingbird
Downy Woodpecker
Nuttalls Woodpecker
Hermit Thrush
Pacific Slope Flycatcher
Wilsons Warbler
November
Mourning Dove
California Quail
Red-breasted Nuthatch
Annas Hummingbird
Allens Hummingbird
Black Phoebe
Bushtit
Western Scrub Jay
Northern Mockingbird
Red-shouldered Hawk
White-crowned Sparrow
California Towhee
American Crow
Townsends Warbler
Ruby-crowned Kinglet
Orange-crowned Warbler
Yellow-rumped Warbler
Western Scrub Jay
Northern Mockingbird
Downy Woodpecker
Hermit Thrush
Nashville Warbler
Huttons Vireo
Nuttalls Woodpecker
December
Annas Hummingbird
Allens Hummingbird
American Robin
Bushtit
Black Phoebe
California Towhee
California Quail
Cedar Waxwing
House Finch
Huttons Vireo
House Sparrow
House Wren
Hermit Thrush
Huttons Vireo
Lesser Goldfinch
Mourning Dove
Nuttalls Woodpecker
Orange-crowned Warbler
Rufus Hummingbird
Red-shoulder Hawk
Red-breasted Nuthatch
Ruby-crowned Kinglet
Townsends Warbler
Wilsons Warbler
White-crowned Sparrow
Western Tanager
Yellow-rumped Warbler
Yellow Warbler
Sightings list
2011 Bird Sighting List
Note: January-May bird records destroyed in Fire
June
Lesser Goldfinch
Allens Hummingbird
Coopers Hawk
Bushtit
House Finch
House Sparrow
American Crow
Yellow-rumped Warbler
July
Allens Hummingbird
Nuttalls Woodpecker
American Goldfinch
Lesser Goldfinch
Bushtit
House Finch
House Sparrow
Black Phoebe
Red-shouldered Hawk
American Crow
August
Annas Hummingbird
Nuttalls Woodpecker
Mourning Dove
Bushtit
Red-shouldered Hawk
Hooded Oriole
Lesser Goldfinch
Black Phoebe
September
Allens Hummingbird
Annas Hummingbird
House Wren
Bushtit
Black Phoebe
American Crow
Ruby-crowned Kinglet
Orange-crowned Warbler
Mourning Dove
Lesser Goldfinch
October
House Wren
Bushtit
Annas Hummingbird
Allens Hummingbird
Black Phoebe
American Crow
Ruby-crowned Kinglet
Orange-crowned Warbler
Yellow-rumped Warbler
White-crowned Sparrow
Lesser Goldfinch
House Finch
Downy Woodpecker
November
Annas Hummingbird
Allens Hummingbird
Bushtit
House Wren
Mourning Dove
Lesser Goldfinch
Western Tanager
Yellow-rumped Warbler
White-crowned Sparrow
Downy Woodpecker
Black Phoebe
Hermit Thrush
Orange-crowned Warbler
Ruby-crowned Kinglet
Red-shouldered Hawk
Black-headed Junco(Oregon Form)
American Crow
House Sparrow
December
Annas Hummingbird
Allens Hummingbird
Bushtit
Hermit Thrush
Yellow-rumped Warbler
Ruby-crowned Kinglet
Red-shouldered Hawk
Dark-eyed Junco
House Wren
Cedar Waxwing
Black Phoebe
White-crowned Sparrow
Orange-crowned Warbler
Lesser Goldfinch
Mourning Dove
Downy Woodpecker
Huttons Vireo
Turkey Vulture (FO)
2010 Bird Sighting List
December
Yellow-rumped Warbler
Orange-crowned Warbler
Townsends Warbler
Red Breasted Nuthatch
Bushtit
Ruby-crowned Kinglet
House Finch
Hermit Thrush
White Crowned Sparrow
Allens Hummingbird
Red-shouldered Hawk
November
Red Breasted Nuthatch
Black Phoebe
Allens Hummingbird
Annas Hummingbird
White-throated Swift
Orange-crowned Warbler
Yellow-rumped Warbler
House Wren
Black-throated Gray Warbler
Mourning Dove
Lesser Goldfinch
Townsends Warbler
Ruby-crowned Kinglet
Turkey Vulture (FO)
Canada Geese (FO)
Red-shouldered Hawk
October
Downey Woodpecker
Yellow-rumped Warbler
Canada Geese (FO)
Black Phoebe
Bushtit
Allens Hummingbird
Annas Hummingbird
American Crow
White-crowned Sparrow
House Finch
September
Black Phoebe
Bushtit
Allens Hummingbird
Annas Hummingbird
Downey Woodpecker
House Wren
American Crow
House Sparrow
August
Black Phoebe
Allens Hummingbird
Annas Hummingbird
Bushtit
Downey Woodpecker
Mourning Dove
House Sparrow
House Finch
American Crow
Scrub Jay
Northern Mockingbird
July
Bushtit
California Towhee
Allens Hummingbird
House Sparrow
Mourning Dove
Annas Hummingbird
House Finch
Black Phoebe
American Crow
June
Allens Hummingbird
Lesser Goldfinch
Downy Woodpecker (m)
Downy Woodpecker (f)
Annas Hummingbird
Bushtit
House Sparrow
American Crow
Black Phoebe
May
Mourning Dove
Allens Hummingbird
Barn Swallows (FO)
Bushtit
American Crow
Warbling Vireo
Wilsons Warbler
Yellow Warbler
Western Wood Peewee
Cassins Vireo
Western Tanager
Coppers Hawk
Yellow-rumped Warbler
Rufus Hummingbird
Lazuli Bunting
Lesser Goldfinch
Townsends Warbler
Annas Hummingbird
Orange-crowned Warbler
House Sparrow
Downy Woodpecker
California Towhee
Nuttalls Woodpecker
April
Yellow-rumped Warbler
Bushtit
Allens Hummingbird
American Crow
Downy Woodpecker
Mallard Duck (M&F)
House Sparrow
Red-shouldered Hawk
Annas Hummingbird
Black Phoebe
Nashville Warbler
Orange-crowned Warbler
Lesser Goldfinch
American Goldfinch
Black-throated Grey Warbler
Rufus Hummingbird
Western Tanager
Townsends Warbler
Canada Goose (FO)
March
Annas Hummingbird
Black Phoebe
Yellow-rumped Warbler
Ruby-crowned Kinglet
Hermit Thrush
Orange-crowned Warbler
Bushtit
Allens Hummingbird
White-crowned Sparrow
American Crow
House Sparrow
Red-shouldered Hawk
Northern Mockingbird
Townsends Warbler
Cedar Waxwing
Mourning Dove
Sharp-shinned Hawk (FO)
Lesser Goldfinch
Rock Dove (FO)
February
Northern Mockingbird
Yellow-rumped Warbler
Black Phoebe
Ruby-crowned Kinglet
Allens Hummingbird
Hermit Thrush
Annas Hummingbird
Townsends Warbler
Mourning Dove
American Crow
Ring-billed Gull (FO)
Bushtit
February
Northern Mockingbird
Yellow-rumped Warbler
Black Phoebe
Ruby-crowned Kinglet
Allens Hummingbird
Hermit Thrush
Annas Hummingbird
Townsends Warbler
Mourning Dove
American Crow
Ring-billed Gull (FO)
Bushtit