Visiting the Garden
California Native Garden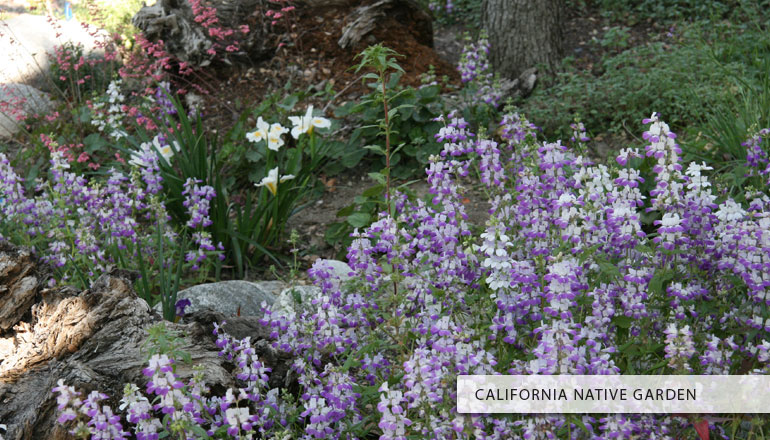 Practical Considerations
Where is it? The GWC Native Garden is located in Huntington Beach, California on the Golden West College Campus. It is on the West Side of Golden West College Campus in a secluded area between the Math/Science building and the Parking lot. The Gardens main entrance is on the north East end of the Garden. (Link to Campus Map)
Hours: The GWC Native Garden is open to the public during daylight hours during the week. On the weekend the eastern gate is locked but the main (northern) entrance is open so you can enjoy the Garden. It is closed during (and immediately after) heavy rains due to unsafe footing on pathways.
Parking: Weekdays, parking permits can be purchased ($2.00) for a day at the yellow permit machines found thinly spaced in the parking lots. Display the parking pass you receive as directed and you may park anywhere in the lot that is regular parking.
On weekends there is no cost to park but there is a swap meet in progress on the Golden West side of campus (the Garden side) that severely impacts parking. So unless you are planning on also visiting the swap meet that day or enjoy the competition of parking in such overcrowded conditions, it may be simpler to park on the Gothard (Eastern) side of Campus and walk through campus to reach the garden. (Link to Campus Map).
Handicapped Access: Until the Garden pathways are completed some areas of the pathways may be steeper than is commonly thought safe for wheelchairs to use. When pathways are finished it is hoped that nearly 75% of the Garden will be accessible and over 80% of the plant collection viewable for our visitors in Wheelchairs.
Rules and Expectations: When in the Garden please take as many photos as you like but do not pick or disturb the flowers or plants. Do not walk into planting areas. The fact that you do not see plants there does not mean there are not seeds getting ready to sprout or bulbs lying just beneath the soil surface. Also, compaction of our clay soils is a real problem, so the less foot traffic the better.
No bicycling or skateboarding is allowed on campus and particularly within the Garden itself. The same is true of Smoking-being relegated to the parking lots. While taking a picnic lunch to enjoy in the Garden is allowed (even encouraged), please be considerate and dispose of trash and be aware that drinking alcoholic beverages while in the Garden (or on campus) is forbidden.
Note: Tuesday and Thursday mornings there are volunteers in the Garden taking care of various chores. Feel free to ask them questions, some of them have a surprising store of knowledge. After your visit consider whether volunteering in our small but interesting GWC Native Garden (where every bit of help is especially appreciated). If that is something that would appeal to you follow this link.
Thanks so much for your help, and Please enjoy the Garden!
Garden Contact: Dan Songster at dsongster@gwc.cccd.edu