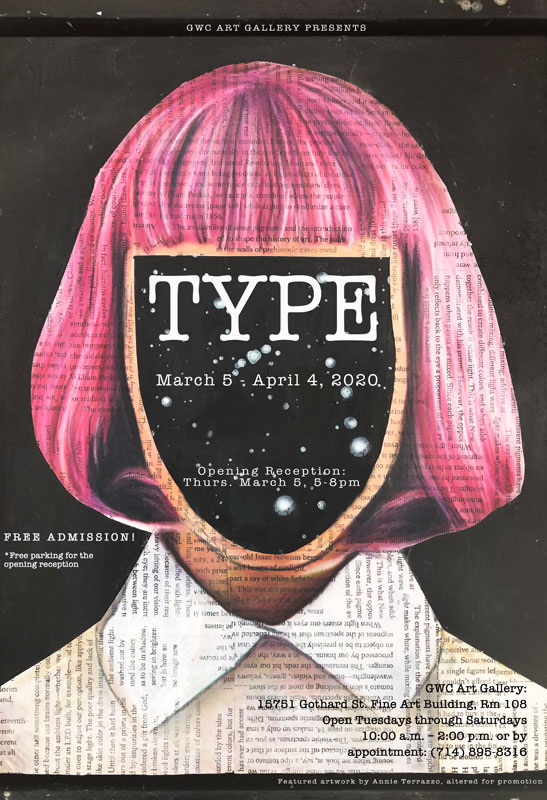 "Type"
March 5 – April 4, 2020
Opening Reception
Thursday, March 5, 2020, 5-8pm
in the Fine Art Plaza
Huntington Beach, Calif. — Interest in type, typefaces, words, language, and typography has been subversively infiltrating the contemporary art and design realms for decades. Oftentimes, this artistic outlet is relegated to an outsider art form, a meme, or categorized as graphic design, but the fine art that incorporates text and type is some of the most powerful art available to contemporary audiences.
Though we may not be aware of it, text-based art and typographical design are constantly influencing our global culture. From the way we see an advertisement, to the interpretation of a headline, the sentiment from a story, or the emotion in a poetic verse, type affects how we understand images, events, and more. In visual art, incorporating type is powerful and persuasive; it offers a specific insight or point-of-view to the larger picture, forcing the artist to be meticulous and intentional with the typographical design and text-based choices.
"Type" is an exhibition that will highlight the beauty and variety of typographical expression including that within street art, graphic design, contemporary painting, drawing, photography, and sculpture. The artists in "Type" creatively explore typography in their artwork and continue finding new and innovative ways to propel the intersection of visual art and language for the greater good of our society as well as our collective and individual spirits.
This exhibition will include artworks by designers and fine artists who explore typography and design in their artwork. Artists in "Type" will include: Colt Bowden, Thomas P. Mueller, Jennifer Celio, Catharin Eure, Steve Wolkoff, Katie Purdue, John Geary, Joe O'Neill, Jackie Bell Johnson, Tm Gratkowski, Dani Dodge, Steve Metzger, Max King Caps, Adam Mars, Lilli Muller, Susan Ossman, Michelle Andrade, Annie Terrazzo, Diane Williams, Bryan Ida, Keith Walsh, Cynthia Underwood, Joy Ray, Maude Tanswai, Bri Cirel, the Panik Collective and more.
Gallery Hours:
Tuesday – Saturday
10:00 am – 2:00 pm
Or by appointment
Contact (714) 895-8316
or gwcartgallery@gwc.cccd.edu
Gallery Location
GWC Art Gallery
Fine Arts Building, Rm 108
15751 Gothard Street
Huntington Beach, CA
(Best parking on
Gothard St., Lot "I")
The Gallery is located in the Fine Arts building on the first floor building 29
CAMPUS MAP
ABOUT THE GWC ART GALLERY
Golden West holds six exhibits which include a Juried Student Art Show in April and May.
GWC GALLERY VOLUNTEERS
Volunteers are needed in the Fine Arts Gallery to greet patrons and answer questions. Contact the Foundation Office at 714-895-8316 for more information.
As a Friend of the Arts at Golden West College, you will enjoy many special benefits including complimentary refreshments at all Theater department plays, invitations to opening night festivities for various Performing and Fine Arts events, guest lectures and demonstrations, and invitations to backstage and costume shop tours.
For just $25, you can join a Friends group, or for $100, you can become a member of all five!
If you have any questions please contact the GWC Foundation 714-895-8316.