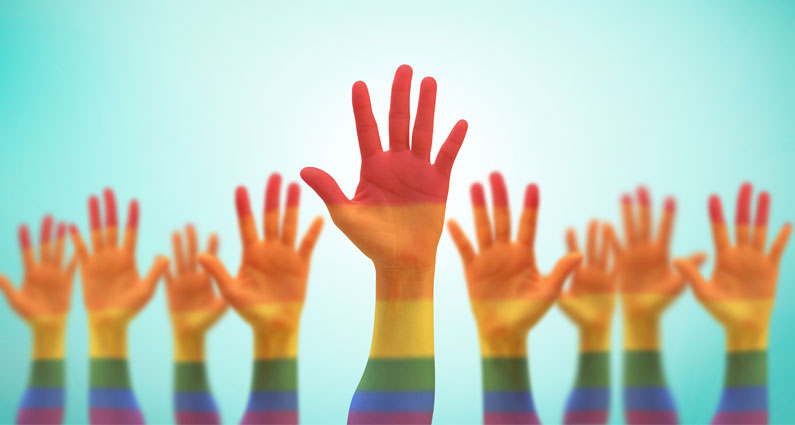 SafeZone Training
GWC regularly offers SafeZone training for both students and employees. In this training, participants expand their cultural competence and discover strategies for promoting and facilitating LGBTQ-inclusive environments. The training is intended for all interested parties. Whether you identify as heterosexual, LGBTQIA+, transgender, cisgender, ally, or aspiring ally, if you want to know more about creating accepting, safe spaces wherever you go, you are welcome here!
Gay Lesbian Alternative Straight Alliance (GLASA) Student Club
The purpose of this club is to raise awareness of the rights of the LGBTQ community and to promote a safe environment for greater understanding of the LGBTQ community.
Advisor(s): Michael Crane
Gender Neutral Restrooms
Gender neural restrooms are available in the Student Services Center, Health Sciences, and the Nursing and Health Services buildings. Visit the GWC map for specific locations: www.goldenwestcollege.edu/campus-map/
Preferred Name Standards
In August 2016, the District adopted Preferred Name Standards, which allow all staff and students to use a chosen first name that appears on unofficial campus documentation, such as class rosters and course shells in Canvas.  Interested parties may find additional information on the Standards here: Preferred Name Standards 
Title IX
Title IX of the Education Amendments of 1972 is a federal civil rights law that prohibits discrimination on the basis of sex in education programs, including athletic programs, or activities that receive federal funding. Visit the Title IX website for more information at www.goldenwestcollege.edu/titleix/
National Off- Campus Resources
GLAAD
The Gay & Lesbian Alliance Against Defamation (GLAAD) is dedicated to promoting and ensuring fair, accurate and inclusive representation of people and events in the media as a means of eliminating homophobia and discrimination based on gender identity and sexual orientation.
PFLAG
Parents, Families and Friends of Lesbians and Gays (PFLAG) is a national non-profit organization with over 200,000 members and supporters and over 350 affiliates in the United States. This vast grassroots network is cultivated, resourced and serviced by the PFLAG National Office, located in Washington, D.C., the national Board of Directors and 13 Regional Directors.
Human Rights Campaign
The Human Rights Campaign is America's largest civil rights organization working to achieve gay, lesbian, bisexual and transgender equality. By inspiring and engaging all Americans, HRC strives to end discrimination against GLBT citizens and realize a nation that achieves fundamental fairness and equality for all.
National Gay and Lesbian Task Force
The mission of the National Gay and Lesbian Task Force is to build the political power of the lesbian, gay, bisexual and transgender (LGBT) community from the ground up. They do this by training activists, organizing broad-based campaigns to defeat anti-LGBT referenda and advance pro-LGBT legislation, and by building the organizational capacity of our movement. Their Policy Institute, the movementÕs premier think tank, provides research and policy analysis to support the struggle for complete equality and to counter right-wing lies. As part of a broader social justice movement, they work to create a nation that respects the diversity of human expression and identity and creates opportunity for all.
Gay and Lesbian National Hotline
National hotline for LGBTQ people.
GLBT National Hotline: 1-888-843-4564
GLBT National Talkline: 1-800-246-7743
Online Peer Support Chat:  M-F 1:00 pm – 9:00 pm (PST), Sat 9:00 am – 2:00 pm (PST)