THEATER ARTS
The Theater Arts Department provides student opportunities to study the art and craft of theater. Students who enroll in the Associate in Arts in TheaterArts for transfer degree prepare for transfer education and/or careers related to theatrical history and literature, performance, design/technology, and management. Theater Arts Majors are introduced to theatrical history and literature, scenic, costume, lighting, sound, and make-up design and technology, acting, directing, and management through coursework and production opportunities. Critical thinking and problem solving skills are acquired through production assignments. Students are encouraged to develop academic and artistic skills enabling them to be successful in further study or employment. Students will be prepared for a baccalaureate degree in Theater Arts.

Arts & Letters Division

Dr. Kay Nguyen, Dean
For more information contact:
Laurie Camody
Division Coordinator
lcamody@gwc.cccd.edu
714-895-8772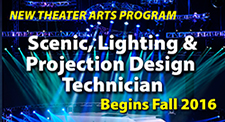 The Associate in Arts Degree for Transfer (AA-T) in Theater Arts will transfer to the following California State Universities:
CSU Bakersfield
CSU Channel Islands
CSU Chino
CSU Dominguez Hills
CSU East Bay
CSU Fresno
CSU Fullerton
CSU Humbolt
CSU Long Beach
CSU Los Angeles
CSU Northridge
CSU Pomona
CSU Sacramento
CSU San Bernadino
CSU San Diego
CSU San Francisco
CSU San Jose
CSU San Luis Obispo
CSU San Marcos
CSU Sonoma
CSU Stanislaus
The list of CSU campuses for this major was provided by the California State University's A Degree with a Guarantee website: http://adegreewithaguarantee.com/
Most of the courses in this program also transfer to the University of California (UC) System and Private Universities. Please see your GWC Counselor early in your studies to choose the transfer option that is right for you.
Job Titles Related to this Major
Actor (Stage, Film, Television)
Agent
Attorney
Business Manager
Casting Director
Costume Designer
Consultant
Dialect Coach
Director
Editor
Higher Education Professional
Lighting Designer
Life Coach
Make-Up Artist
Model
Performing Artist
Producer
Public Relations Assistant
Puppeteer
Researcher
Set Designer
Singer
Sound Designer
Stage Manager
Talent Agent
Teacher
Technical Director
Volunteer Coordinator
Writer / Playwright
Faculty name links to bio.
FULL-TIME FACULTY
PART-TIME FACULTY