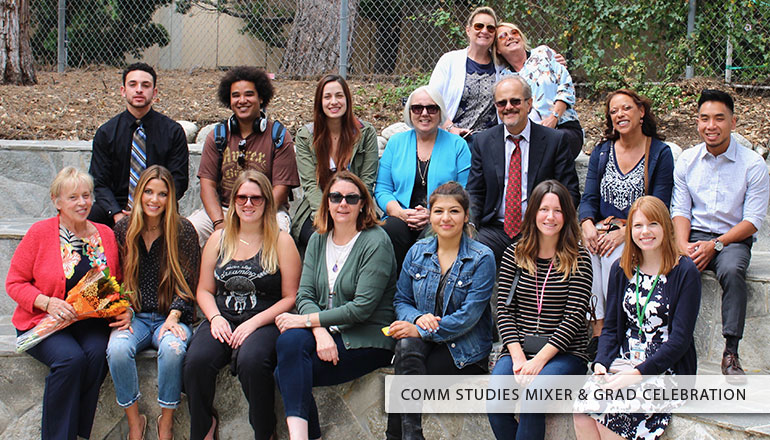 COMMUNICATION STUDIES
Communications is the branch of language arts, which focuses on the comprehensive expression of sound and visual, oral, and written symbols. Study in communications is geared toward understanding the many ways human beings develop, collect, disseminate, and transfer information through symbols, particularly via the mass media. Major areas of specialization include journalism, telecommunications, film, TV, radio, and advertising.

Social Sciences, Communications, World Languages Division
Dr. Alex Miranda, Dean
For more information contact:
Lindsay McNutt
Division Coordinator
lmcnutt@gwc.cccd.edu
714-895-8384
The Associate in Arts Degree for Transfer (AA-T) in Communication Studies will transfer to the following California State Universities:
CSU Channel Islands
CSU Chino
CSU Dominguez Hills
CSU East Bay
CSU Fresno
CSU Fullerton
CSU Humbolt
CSU Long Beach
CSU Los Angeles
CSU Monterey Bay
CSU Northridge
CSU Pomona
CSU Sacramento
CSU San Bernadino
CSU San Diego
CSU San Francisco
CSU San Jose
CSU San Luis Obispo
CSU San Marcos
CSU Sonoma
CSU Stanislaus
The list of CSU campuses for this major was provided by the California State University's A Degree with a Guarantee website: http://adegreewithaguarantee.com/
Most of the courses in this program also transfer to the University of California (UC) System and Private Universities. Please see your GWC Counselor early in your studies to choose the transfer option that is right for you.
A Major in Communication Studies leads to many career opportunities. The following is a partial list of occupations available to Communications Majors by level of degree obtained:
Associate in Arts Degree
Actor/Actress
Announcer
Auctioneer
Broadcast Technician
Disc Jockey
Media Specialist
News Photographer
Proofreader
Research Library Technician
Bachelor of Arts Degree
Account Executive
Advertising Worker
Arbitrator
Columnist
Commentator
Copyeditor
Copywriter
Editor
Educator
Foreign Correspondent
Journalist
Lecturer
Lobbyist
Online Content Developer
Public Relations Specialist
Publisher
Reporter
Speech Writer
Technical Writer
TV Director
FULL-TIME FACULTY
Kristine Clancy – kclancy@gwc.cccd.edu
Kristine Clancy is a full time instructor in the Communication Studies Department. She has been teaching college-level communication courses for more than a decade. Before coming to Golden West she taught at Purdue University, Pepperdine University, and a number of local community colleges including Long Beach City College and Cypress College. Her interests include Public Speaking, Intercultural, Interpersonal, and Gender Communication. In addition to teaching, Kristine is also active in the Open Educational Resources (OER) movement, editing an OER Interpersonal textbook and advocating for the use of free course materials in all of our communication courses. She has a passion for students and is actively involved in the equity movement at Golden West College to foster a more inclusive and welcoming environment for all students. When she is not on campus Kristine enjoys baking, blogging, and spending time with her family.
---
Heather Kelley – hkelley1@cccd.edu

Heather Kelley, Orange County native, has been teaching at Golden West College since 2014. She began her college career at Orange Coast College. This is where she discovered her passion for the discipline. She then transferred onto California State University, Fullerton, to earn her B.A. and M.A. degrees in Communication Studies. She now currently works at Golden West College and Cerritos College teaching Communication Studies courses. In her spare time, she enjoys walking along the beach, practicing yoga, traveling, and spending time with family and friends..
.
.
---
Dr. John Lervold II – jlervold@gwc.cccd.edu
Professor, Communication Studies
A.A., Golden West College; B.A., M.A., CSULB;
Ph.D. at University of Washington
.
.
.
.
---
Russell Terry – rterry@gwc.cccd.edu
Professor, Counselor/Communication Studies
B.A., M.A., California State University at Fullerton; M.A., Loyola Marymount University; further graduate study: California State University at Fullerton, Claremont Graduate University

---
Rachel A. Wegter – rwegter@gwc.cccd.edu

Rachel A. Wegter has taught at Goldenwest College for nearly a decade and is excited to be one of the Communication Studies Department's full time instructors.  Her major areas of focus include public speaking, mediation and negotiation, organizational communication and social media; she is working to foster local internship opportunities for GWC COMM majors and is also active on the GWC IPD Committee. An alumnus of CSULB, Rachel taught communication courses at CSULB, L. A. Valley College and Coastline College, developed distance learning classes for military personnel and ran speech and journalism programs at a large urban high school in Long Beach for many years. She is a published author of a public speaking textbook and currently enjoys regularly contributing to a variety of digital outlets. She has a passion for teaching communication due to its unmitigated relevance; everything learned in a communication course can be applied in daily life! In her spare time, she loves antiques, silent cinema, writing, photography, traveling and spending time with her family and pup, Jethro.
---
PART-TIME FACULTY
Albert Alatorre – aalatorre9@gwc.cccd.edu
Albert Alatorre obtained his Master of Arts degree in Communication Studies at CSULB. During his tenure as a graduate student there he discovered his love for teaching. This love led him to become a forensics coach and instructor at CSULB. Since then, Albert has gone into the consulting and organizational development field where he applies the practicalities of Communication Studies on a daily basis. He is so passionate about teaching that he does it in addition to his day-to-day career. Ultimately, Albert hopes to inspire and challenge his students to reach the maximal limitations of their potentialities.
.
---
Katie Bruns – kbruns1@cccd.edu

Katie Bruns began teaching at Golden West in Fall 2015 after graduating with a M.A. in Communication Studies at California State University, Long Beach. With a B.S. in Business Administration from Chapman University, Katie also has experience in management, marketing, and event planning. In addition to teaching at a variety of local colleges, Katie loves running, making lists, advocating for social justice, and adventuring with her husband and two kids. Katie thrills in helping students give voice to their passions in her Public Speaking classes and teaching students how to build successful and satisfying relationships in her Interpersonal Communication courses. Her utmost goal as an educator is to help students pursue their passions. She agrees with Howard Thurman when he said, "Don't ask yourself what the world needs. Ask yourself what makes you come alive, and go do that, because what the world needs is people who have come alive." Katie's goal in teaching is to help others come alive.
---
Kayla Graney kgraney@gwc.cccd.edu

Kayla R. Graney has nearly six years experience teaching communication courses and has taught at Goldenwest College for three and a half of those years.  Her major areas of focus include public speaking, organizational communication, small group dynamics, and interpersonal communication.  An alumni of CSUF, Kayla taught communication courses at CSUF, Saddleback College, Irvine Valley College, Mt. San Antonio College and was a speech and debate coach for both CSUF and Irvine Valley College.  In addition to teaching, she has years of experience in the communications field working as a traffic reporter, marketing specialist, and executive director.  Along with teaching, Kayla is also an executive coach who has dedicated herself to helping leaders and their teams create meaning in their own lives and in their organizations.  She is drawn to teaching because she truly believes the skills that are being taught have practical applications beyond the classroom and her goal is to set her students up for a successful career in the workforce. She not only sees herself as their instructor, but as a mentor and coach in life.  In her spare time, she loves spending time with her family, taking weekend adventures, and shooting photography.
---
Brittany Hubble bhubble@gwc.cccd.edu
Brittany Hubble has been teaching as a community college instructor since the Fall of 2018. In addition to Golden West College, Brittany is an instructor at El Camino College, Long Beach City College, LA Harbor College, Santa Monica College, and Cypress College. Her passion for Communication Studies began when she attended El Camino College where she also was a nationally ranked competitor in both speech and debate. Brittany received both her B.A. and M.A. in Communication Studies from University of California, Los Angeles and California State University, Long Beach respectively. During this time, she continued pursuing her love of speech and debate by serving as a coach for El Camino College. She continues to coach for El Camino College and is an avid member for the forensics community in her capacity of Vice President of both the Pacific Southwest Collegiate Forensics Association and the National Parliamentary Tournament of Excellence. Additionally, Brittany has been actively involved in the field of communication studies by presenting at conferences such as Western States Communication Association and National Communication Association, as well as merging her love of communication and education in a publication she co-authored in Taboo: The Journal of Culture and Education. When Brittany is not in the classroom or coaching speech and debate, she enjoys traveling the world, exercising, and spending time with her friends, family, and dogs.
---
Jessica Marquez – jmarquez67@cccd.edu
Born with congenital glaucoma, Jessica Marquez had to learn how to see the world in a different light. Despite her deteriorating vision, Jessica has achieved remarkable success. With family, friends, and colleague's support, she kept her eyes on the future. She excelled in school, eventually earning a M.A. and M.A. in Communication Studies from CSU Long Beach. Currently, Jessica teaches Public Speaking and Interpersonal Communication at Golden West College and Long Beach City College. Her lived experience in education led her to teach students how to empower themselves by becoming confident and competent oral communicators. As an Adjunct Communication Studies Instructor, Jessica aims to work with diverse students in order to motivate them to face their fears, learn empathy, and build a strong communication skill set that will enhance both their personal and professional relationships. "Education is power," Prof. Jessica says. "Don't let anything stand in your way."
---
Deborah McPherson – dmcpherson@gwc.cccd.edu

Debby McPherson has taught communication courses for 22 years (at GWC for 11 years), with her major areas of concentration being Argumentation Essentials, Public Speaking, Interpersonal Communication and Organizational Communication. In addition to her course instruction, she was a Debate Coach for a local high school for 5 years. In her spare time, she loves watching her son play soccer and traveling.
.
.
---
Laura Michel –
Laura Michel is a part-time communications instructor at various community colleges throughout Southern California. She received her B.A. from San Francisco State University and her M.A. from Cal State Fullerton. Laura also has several years of experience working in Education and Development at various nonprofit organizations, and a few years of experience in Marketing for a publishing company. In her spare time, she enjoys surfing, yoga, and reading.
.
.
.
---
Shelley Natale – snatale1@gwc.cccd.edu
Shelley Natale began teaching at Golden West in Fall 2017 and is excited to be a part of GWC. She was also a part of the community college system as a graduate of Fullerton College, and continued on to receive a Bachelor's Degree from Cal State University, Fullerton. Following her BA, she joined the corporate world and had a 10-year career in the advertising and marketing industries. During this time she completed her Master's Degree and graduated from Gonzaga University with a degree in Communications and Leadership with the goal of becoming a professor. Shelley has also taught at Fullerton College, Santa Ana College, Mt. SAC, and Cal Poly Pomona. Before becoming a college instructor, she also taught English in Japan and has a passion for intercultural communications. When she is not in the classroom Shelley enjoys going on hikes, attending concerts, and live theater. She has performed in plays and musicals since high school and currently volunteers at a small theater in Orange County during her free time. Shelley loves seeing her students grow within her classes and helping them find their voice and confidence in public speaking.
---
Tiffany Ruggeri-Di Lello – tdilello@gwc.cccd.edu

Tiffany Ruggeri-DiLello has been with Goldenwest College since 2016. Professor Ruggeri is an alumnus of California State University, Fullerton, and currently teaches the essentials of argumentation, public speaking, and interpersonal communication. Professor Ruggeri believes in student-centered learning, and that coursework should be designed so that what is learned in the classroom will aid in student success in all facets of life, in real time
.
.

.
---
Emily Vu – evu16@gwc.cccd.edu

Emily Vu has been an adjunct faculty at Goldenwest College for almost two years now, though she has been teaching Communication Studies courses for over ten years. She started out at Santiago Canyon College and moved to Highline College in Washington State for a tenure-track position but found out that there's no place like California. Currently, she is an adjunct faculty at GoldenWest and Fullerton College teaching in areas of Interpersonal, Intercultural, and Public Speaking courses. Emily is also working on a doctorate in Community College Leadership at Oregon State University. Her areas of interests are equity, critical race theories, and remediation education – and the lasting impact it has on higher education. Emily volunteers her time at the Maple Center after-school program in the city of Fullerton, teaching elementary children on topics like self-advocacy, community building, anti-bully with her colleagues. Her group present a workshop at the Western State Communication Association about the after-school program learning collaboration efforts. In her spare time, she loves to hang out with her four-year daughter and traveling.
---
Summer Wagner – swagner@gwc.cccd.edu

Summer Wagner received a M.A. in Communication Studies in 2009 from California State University, Long Beach. Since then she has taught students in high school (Inglewood City Honors and Compton Early College) and college (El Camino College – Compton, Cerritos, Santa Ana, CSULB). Her course offerings center around lower division communication courses; including Public Speaking, Interpersonal Communication, Small Group Discussion, and Argumentation and Debate. Her passion for teaching stems from her own communication apprehension, which is the way she relates to the anxious student. She has attended faculty trainings and is constantly looking for ways to keep students engaged. In her free time, she enjoys spending quality time with her family, practicing yoga, and exploring new places.