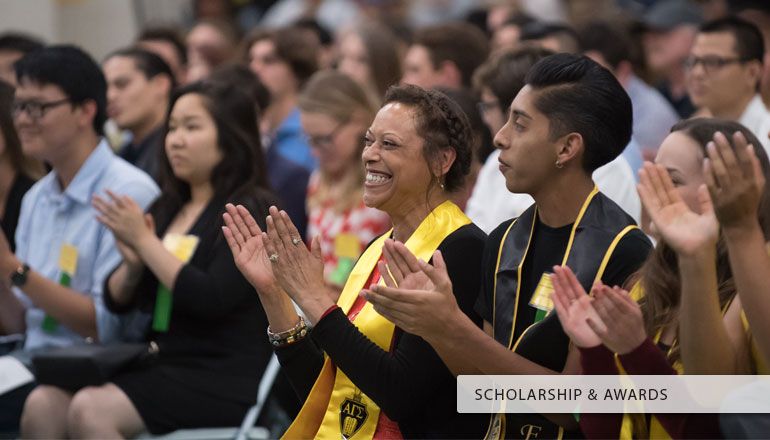 Scholarship & Awards Night
---
The Golden West College Foundation and the Scholarship Office requests the pleasure of your company at the
Annual
Scholarships and Awards Ceremony*
Tuesday, May 5, 2020
6:30 p.m.
Gymnasium
Reception immediately following the ceremony Complimentary parking in Goldenwest Street parking lot
*Notification of the recipients will be done on the Scholarship Website by the end of April 2020 and a personal email will be sent to the Scholarship Recipients.
---
Golden West College Awards Students $500,000 in Scholarships
During the annual Scholarships and Awards Ceremony held at Golden West College both students and donors are recognized for their commitment to academic achievement as well as civic and educational involvement.
In 2019 over 449 scholarships were awarded totaling over $500,000, a 28% increase from last year.
Thanks to the generosity of our donors, 322 GWC students were honored with scholarships and awards during the evening. One of the recipients, Madrid Ruiz, a Communications major attending CSUF received a scholarship and said This award is important to me so that I must purchase books, and any necessary materials to complete my classes and having the career I always wanted and envisioned in my head. Thank you once again for helping me on my journey to achieve academic success. Xelha Merieses wrote, I am grateful, and honored to receive my first scholarship from Golden West College.